Yesterday, 20 November, 2018 was World Children's day and so many organisations spared their time to cheer children from all over the world, among them was a youthful local organization by some hearty youths from Malawi.
The group comprises of three members, and it started way back in 2016, and this was their first time taking part in cheering youths on the day.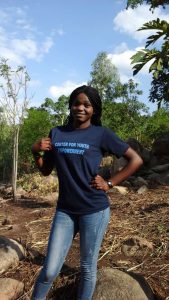 The group's Chief Executive Officer (CEO) is 21 year-old, Twaeena Hussein Sadik, who works for LightHouse Trust, and says they took advantage of the day to give the little they had to children of Chimwanza village in Machinjiri, Blantyre.
"We took advantage of the day to share children of Chimwanza the little we had, we gave them clothes, notebooks, ball point pens and shoes," she said.
The gifts from the kindhearted members of the group brought joy to the children and their parents, and the children couldn't hide their jovial faces.
Group Village Head Chimwanza, said she was very happy and grateful for the coming of the initiative by C4YE, and that it has been helpful because most of their youths in the village were inactive when it comes to youth and development initiatives, but now with the introduction of the youth clubs they have become well organised and active.
Since 2016, C4YE has embarked on different youth development activities, such as bring a girl child back to school and they also have a football and netball team; Future Leaders FC and Future Leaders Netball Club, which are yet to start playing in leagues.
In the process of sharing the gifts, Sadik also came along two 18 year-old girls who have just given birth and are ready to go back to school after taking part in youth gatherings organised by C4YE.
"We are embarking on a project which aims at bringing a girl child back to school, but we mix in the sense that we incorporate both girls and boys, and we advise them to work hard in school and refrain from bad things.
"Yesterday we were happy to have found two 18 year-old girls who have just given birth but want to further their education, and they will start in January, the other one stopped in standard 6 and the other in form 2," she explained.
The three-member group is also working in partnership with Machinjiri Youth Organisation.
Meanwhile, United Nations for Children Fund (UNICEF) also embarked on a similar initiative in Mangochi where some youths from the district were given the chance to work as radio presenters for community radio stations.
(Visited 85 times, 1 visits today)