Since the commencement of the campaign period on Tuesday May 19, candidates of various political parties have started crisscrossing across the country with campaign messages.
Incumbent President Professor Arthur Peter Mutharika has also been on the road visiting flood victims in the South and urging them to vote for the ruling Democratic Progressive Party (DPP).
While in Chikwawa Mutharika made a rare confession that he made a mistake in choosing an 'outsider' and power hungry Saulos Klaus Chilima  as his running mate in 2014.
According to Mutharika, the fact that his own vice president dumped him and became his rival is clear indication that he made an error.
He was making the remarks when he was introducing his running mate, Everton Chimulirenji to the party followers at a rally in Chikwawa.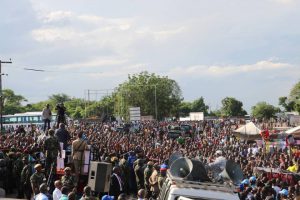 Mutharika said his choice of Chimulirenji in in the forthcoming polls is a wise one and he will never regret it.
He said Chimulirenji unlike Chilima was already a party member.
"There were 17 nominees for the running mate this year in the DPP. But I picked Chimulirenji because he was from within the party. I didn't want to repeat the error I made in 2014. Please forgive me for that," said Mutharika at the end of his visit to flood victims in the district earlier this week.
Meanwhile it is yet to been seen if indeed Mutharika choice is a wise one.
(Visited 45 times, 1 visits today)