By Robert Kumwenda
Independent Shadow Member of Parliament (MP) for Blantyre West Constituency Thomasi Wezi Kawumba has justified his decision to work with the opposition Umodzi Party (UP) as the country's remain with few days before registered voters goes to the polls to elect leaders of their choice.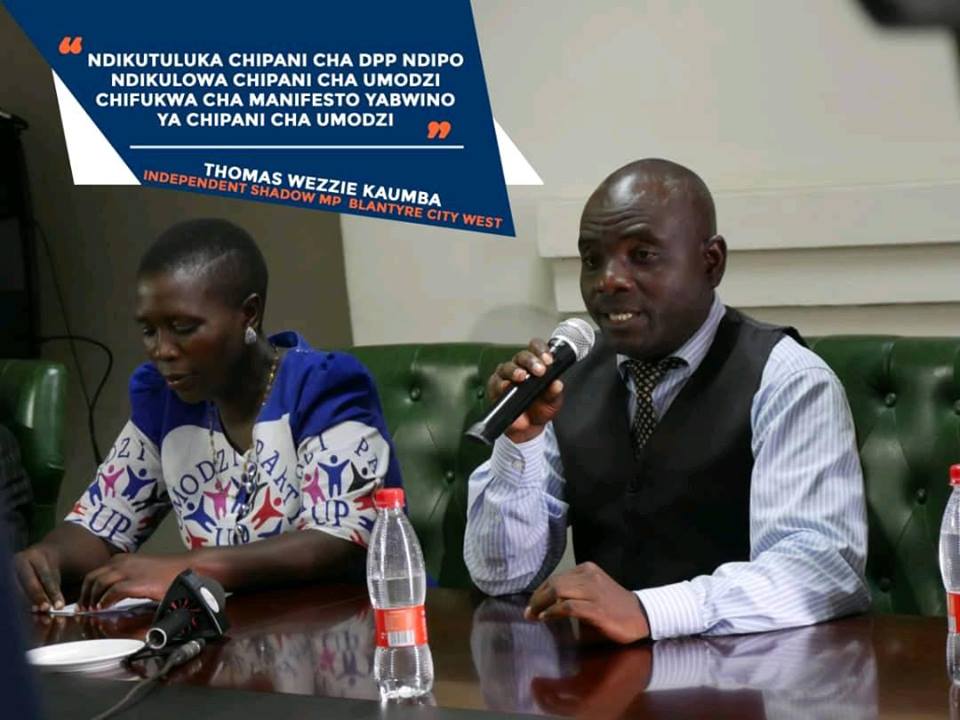 Kawumba said he has been working as ward councilor for the ruling Democratic Progressive Party (DPP) in the last five years but has decided to dump DPP and join UP because he was inspired by Professor John Chisi who articulated on how he will transform Malawi if elected as president during the presidential debates.
He said the UP leader wants to end poverty in the rural areas saying that he also had a chance of checking the UP manifesto especially on page 43 where there is poverty reduction.
'ÄúThe issue about poverty reduction, people are just singing about it because there is literally nothing happening on the ground and people are suffering in the village,'ÄĚ he said.
Kawumba said UP leader want decentralization policy for resources to be transferred from the central government to district councils so that the rural people should benefit from their taxes.
He said some politicians are the reason why there is rampant corruption in this county.
He said Chisi wants court cases not to last for years as there will be a deadline for any case so that justice should prevail at the end of the day.
'ÄúAm urging people in Blantyre City West to vote for Professor John Chsi for things to change in this country and for a better Malawi and l am very optimistic that we are going to win,'ÄĚ he said.
Kawumba said that he is feeling sorry about what is happening in the village saying that UP leader can turn around tables for a better Malawi.
"When we choose people we look at the characters of a person, Professor John Chisi has been helping in this country in various ways and is very brilliant as well as educated," he said.
'ÄúAm standing as independent because l was not aware of the UP Manifesto. It was until l listened to the presidential debates, ¬†l was satisfied with the way Chisi was responding to the questions out of all the presidential candidates that participated in the debates,'ÄĚ he said.
He said from now on-wards, Umodzi Party will never be what it was before and he will work with the party if he win as MP.
(Visited 11 times, 1 visits today)
Subscribe to our Youtube Channel :
Follow Us on Instagram