By Robert Kumwenda
Students from Grammar School at Leeds in England have donated some items to Jacaranda School for orphans in Malawi.
Barry Brindley, who led the group said the donations were text books, clothes, arts materials, paint, tools for the carpentry program, pencils for art work and a lot of sports equipment for netball and football.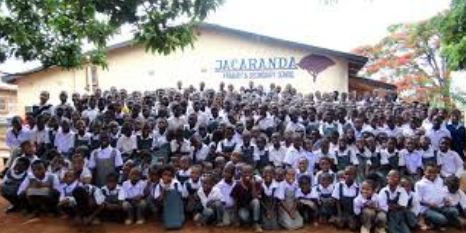 The group also donated 11,000 pounds which is about ten million kwacha for hospitals and the feeding Centre at Malamulo in Thyolo district.
"Every two years we send forty four containers each container weights thirty tones with medical equipment, clothes, books, toys, education equipment, musical instruments and anything that we think is useful. We do this twice a year," he said.
Brindley who is also the founder of Zikomo Trust foundation based in England but operates in Malawi said they donate everywhere across Malawi.
He said they have also donated in various places in Malawi like Blantyre, Thyolo, Limbe and Mangochi saying that this is a thank you to Malawi because all of his children were born in Africa.
"Our organization is a nonprofit organization and every pound we earn we spend it here in Malawi."
Lindsey Fowlen, one of the students from Grammar School in England said their school has strong links with Malawi saying during their visit to Malawi they also distributed different items to primary schools, hospitals and few orphanages.
She said they also donated different items to Kasungu district hospital, Beit Cure hospital in Blantyre and Malamulo hospital in Thyolo just to mention a few.
"It is the intention of Mr Brindley to make sure that children get education as well and this is very important," she said.
Luc Deschamps, Executive Director for Jacaranda School for orphans in Malawi said every two years, students Grammar School in England bring containers of donations to many places in Malawi.
He said apart from the donations the group has sponsored one of their students at Malawulo College and they really appreciate that kind of gesture.
"We were very happy to welcome them and this is good for young people with same ideas to interact because it opens up their mind, the horizon, also encourages them to work harder to go to college,"
he said.
Deschamps said they started helping them some two years ago and they appreciate when young people bring donations to develop schools, libraries as they do and it is a great lesson for the British students.
"These kinds of visits can help to strengthen friendship among the youth and can also help to bring development," he said.
He further said that the visits also inspire the youth to take action and help each other to do community work.
Jacaranda School for the orphans in Malawi was established in 2002 and has over four hundred students.
(Visited 3 times, 1 visits today)
Subscribe to our Youtube Channel :
Follow our Instagram