Skies over an Indonesian province turned red over the weekend, thanks to the widespread forest fires which have plagued huge parts of the country.
One resident in Jambi province, who captured pictures of the sky, said the haze had "hurt her eyes and throat".
Every year, fires in Indonesia create a smoky haze that can end up blanketing the entire South East Asian region.
A meteorology expert told the BBC the unusual sky was caused by a phenomenon known as Rayleigh scattering.
Eka Wulandari, from the Mekar Sari village in Jambi province, captured the blood-red skies in a series of photos taken at around midday on Saturday.
The haze conditions had been especially "thick that [day]", she said.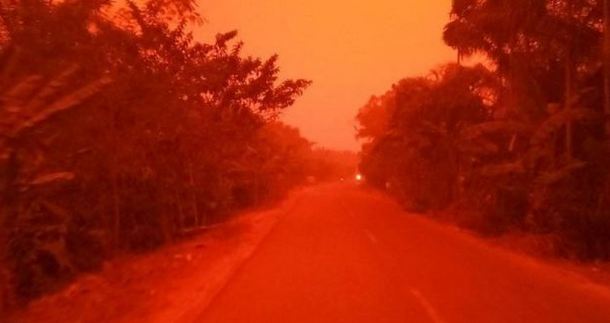 The 21-year-old posted the pictures on Facebook. They have since been shared more than 34,000 times.
But she told BBC Indonesian that many online had doubted whether or not the photos were real.
"But it's true. [It's a] real photo and video that I took with my phone," she said, adding that haze conditions remained severe on Monday.
Another Twitter user posted a video showing similarly coloured skies.
"This is not Mars. This is Jambi," said user Zuni Shofi Yatun Nisa. "We humans need clean air, not smoke."
Source:BBC
(Visited 8 times, 1 visits today)
Subscribe to our Youtube Channel :
Follow Us on Instagram