Rap superstar Snoop Dogg crowned himself People's Sexiest Man Alive on Thursday by sharing a hilariously doctored cover of himself smoking a joint.
'Thank. You (laughing emoji and fist emoji),' Snoop – who boasts 93.8M social media followers – captioned his Instagram.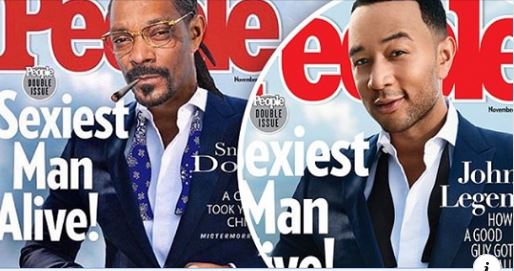 The 48-year-old SoCal native's Sinatra-style undone bow-tie was replaced with a Crips gangsta bandanna and the subhead: 'How a Crip took your chick.'
Among the celebrity commenters were three-time Grammy winner MC Hammer and Dogg's cousin (and Kim Kardashian sex tape star) Ray J, who thought the cover was real.
It was the same day People unveiled R&B-crooning, Ivy league-educated family man John Legend as their Sexiest Man Alive of 2019 – replacing British heartthrob Idris Elba.
Unlike the EGOT champ, the Martha & Snoop's Potluck Dinner Party star hasn't won many awards, but he's been nominated for two Primetime Emmys and an eye-popping 16 Grammys.
People Magazine has steered clear of bestowing their honor on men with criminal pasts, and the 6ft4in hip-hop star has had many brushes with the law.
Snoop (born Calvin Broadus) considered the late great Prince to be the epitome of sexiest man alive.
'Musically, visually, sexually – Prince was the greatest to ever do it. Point blank,' Dogg explained to People in 2016.
'He showed us how to seduce a woman; make music that felt good to women and appealed to men as well. He stayed in tune with his feminine side while remaining masculine.'
The Do You Like I Do hitmaker has three children – Corde, 25; Cordell, 22; and daughter Cori 19 – with his wife of 22 years, high school sweetheart Shanté Taylor.
The Dr. Dre protégé also has a 21-year-old son Julian Corrie with his babymama, Laurie Holmond.
Snoop will next kick off his 25-date I Wanna Thank Me Tour with a sold-out concert on December 2 at The Fillmore in San Francisco.
Acting-wise, Dogg portrays DJ Roj in Craig Brewer's Rudy Ray Moore biopic Dolemite Is My Name starring Eddie Murphy, which started streaming October 25 on Netflix.
Source:DailyMail
(Visited 57 times, 1 visits today)