Association of People with Albinism in Malawi (Apam) has given government 7b days release findings of an inquiry into killings and abductions of persons with albinism (PWAs) that President Peter Mutharika directed last year.
Due to the killings and abductions, Mutharika early last year instituted a commission of inquiry to probe the attacks and give recommendations to help address the issue.
In a statement signed by Apam president Ian Simbota said government needs to prove that it is working in the best interest of PWAs and should help address attacks on them.
"Government is keeping under wraps a commission of inquiry report which the State President received in 2019. Other stakeholders have also emulated the precedent set by government, keeping their studies' dossiers locked up in office cabinets with keys kept in their loins.
"By default, government and those that call themselves 'stakeholders and partners' and yet they are engaged in such strange phenomena are playing the role of accomplices. We continue to wonder how they hold themselves accountable by not releasing the studies' reports."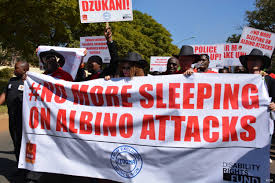 On his part, presidential spokesperson Mgeme Kalilani said there is no report because the commissioners asked for more time and money to carry out assignments in other countries where such attacks had been happening and were eradicated.
He said President Mutharika approved both additional funding and time so that the commissioners carry out the activities in other countries. He said the commissioners submitted the budget in January this year and by February funding had been allocated.
Beliefs and superstitions that body parts of albinos can bring good luck and wealth have put the safety and lives of people with albinism at risk.
According to VOA, since 2013, 26 Malawian albinos have been killed and 130 injured.
(Visited 42 times, 1 visits today)