Being in a relationship where you can communicate easily with your partner is a thing of joy.
However, most relationships today are built on deceit and lack of trust. If you must actually succeed in your relationship, you have to try as much as possible to be truthful at all time.
Most relationships today has ended because of lack of trust and cheating not having a clear conscience
However, when you as a man or Lady decides to start keeping secrets from your partner and also begin telling lies in order for you to cover your tracks, that is when your problems would start mounting up.
This chat is between a man and his ex .They argued over the lady spending the weekend and she opted out telling him to call his wife
However, He decided to ask of Sex from his ex which was turned down.
See the chats below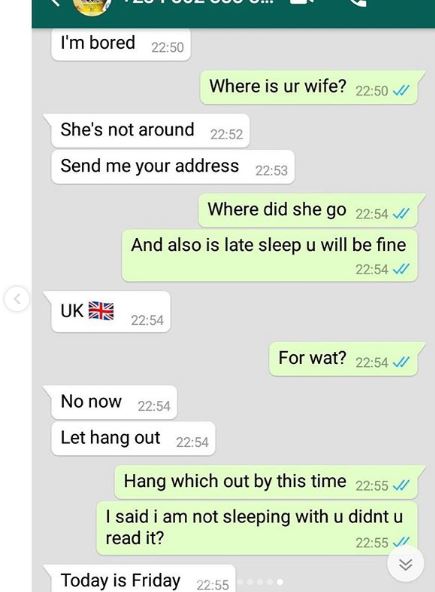 A man could be so horny to the point of wanting to hang out with his ex just because his wife travelled
Or could it be the other way round most men can't just stay alone without getting it down
Most of them look for the slightest opportunities to get back to their ex
Well I can't justify his actions maybe he has his reasons .what are your opinions please drop them in the comment section and don't forget to like for more
(Visited 137 times, 1 visits today)
Subscribe to our Youtube Channel :
Follow Us on Instagram