The Human Rights Defenders Coalition (HRDC) has written the Anti-Corruption Bureau (ACB) to investigate the alleged dubious acquisitions of public land by top politicians.
Signatories of the letter HRDC Chairperson Gift Trapence and National Coordinator Luke Tembo said they got the information through their whistle blower initiative they establish few months ago.
In the letter directed to the deputy minister of land and ACB director, Abida Mia and Reyneck Matemba, HRDC has said the said land was corruptly awarded to the said politicians.
'ÄúWe have received allegations that plots 1036 to 1040 Limbe East (near Railyways) were corruptly awarded to an individual in Limbe. It is further alleged that Deen plan No. 170/09 was forged,'ÄĚ reads the letter seen by Faceofmalawi Reporter.
Adding to that, it is also alleged that the land which was donated to Machinga district council was also snatched by a politician.
'ÄúWe have also received allegations that a farm located along the road after bridge on the right as you go to Ntaja was donated to Machinga District Council. It is further alleged that a political heavy weight snatched the farm from the council without paying anything,'ÄĚ reads the letter.
Furthermore, a Ministry of works guest house in Mzuzu and Mbowe dam which was built as part of Viphya Plantation Concession Plan in the Lusangadzi Forest have also been snatched by a politicians who did not pay for it.
HRDC is therefore looking forward to ACB to institute investigations on the matter and act accordingly.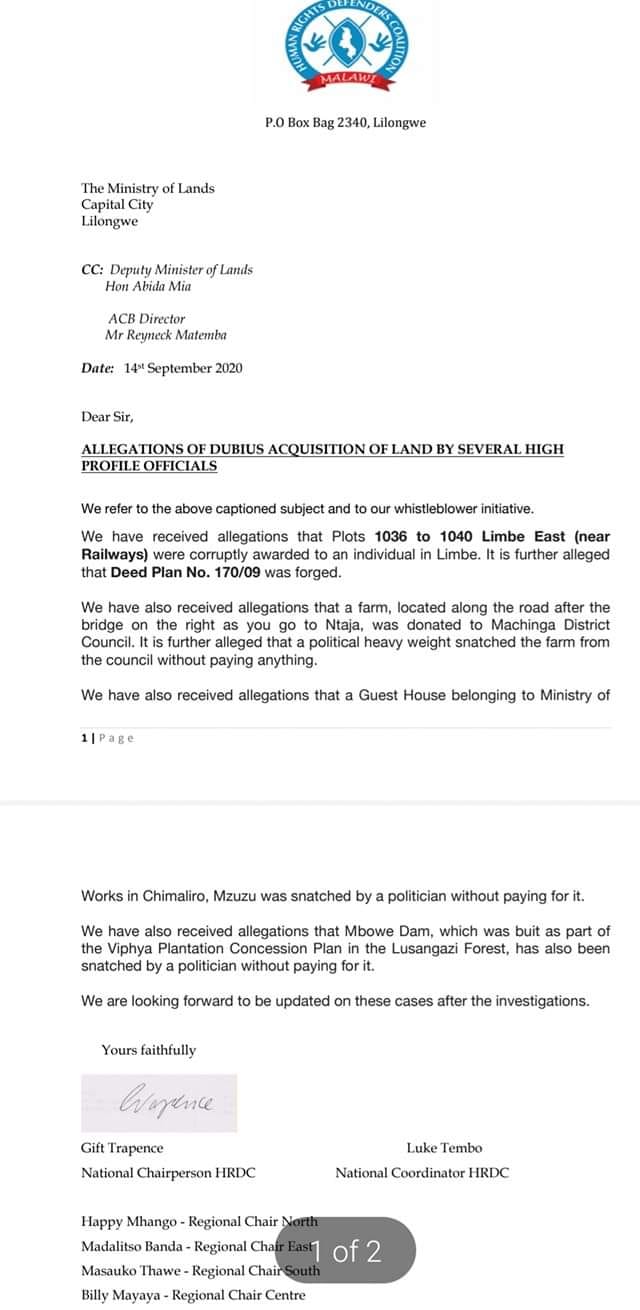 (Visited 125 times, 1 visits today)
Subscribe to our Youtube Channel :
Follow Us on Instagram