Roads Authority has announced that the much awaited magnificent area 18 interchange in the capital city Lilongwe will be opened on Monday, September 28, 2020.
In a press statement made available to face of Malawi, signed by the Chief Executive Officer of Roads Authority Emmanuel Matapa, the road users are being advised to follow prescribed speed limits.
"The public is being advised to use the prescribed speed limits and other information signage displayed around this facility for easy flow of traffic," said Matapa.
Matapa has further asked the public to pay attention to the sensitization and familiarization messages being given out by the Road Traffic and Safety Services (RTSS) through various media Houses.
Roads Authority further thanked the general public for their patience and understanding during the whole construction period.
Construction of the interchange was initiated by the former ruling Democratic Progressive Party (DPP).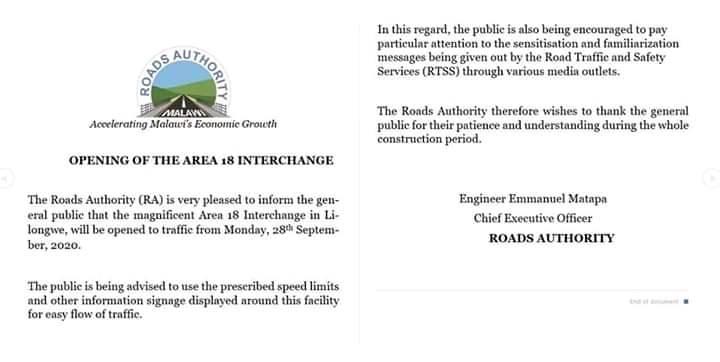 (Visited 966 times, 4 visits today)