Donald Trump has told Joe Biden to 'get well soon' after the President-elect fractured his foot playing with his pooch.
Doctors have said Biden, 78, will likely have to wear a walking boot for 'several weeks' following the injury to his right foot.
Biden sustained the injury on Saturday (28 November) and visited an orthopaedic specialist in Delaware.

Director of executive medicine at GW Medical Faculty Associates Dr Kevin O'Connor said in a statement: "Initial X-rays did not show any obvious fracture, but his clinical exam warranted more detailed imaging.
"Follow-up CT scan confirmed hairline (small) fractures of President-elect Biden's lateral and intermediate cuneiform bones, which are in the mid-foot."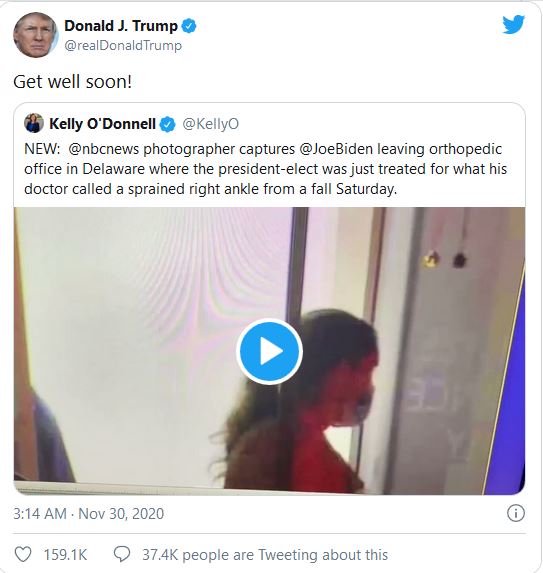 When news broke, Trump was one of the many people to wish him well – posting a news clip about the story on Twitter and writing: "Get well soon!"

According to reports, Biden had been playing with his dog Major when he slipped and injured his foot.
Biden will be bringing his two pooches Champ and Major to the White House next year – with Major being the first ever rescue dog to live in the presidential home.
Joe and wife Jill first became foster-owners to Major after their daughter showed them a litter of puppies needing to be temporarily homed.
They ended up falling in love with him and adopted him from the Delaware Humane Society.
The Bidens have also revealed they will be getting a cat, according to CBS Sunday Morning.
In a tweet, Sunday Morning said they had been told 'exclusively' by the Bidens that they would 'soon be joined by a cat'.
It seems as though the feline addition may be a gift from Joe to celebrate his win – in an interview with Angie Goff for Fox 5's back in September, Dr Biden was asked if her husband planned to get her a present if he won.
Dr Biden replied: "Well, I'd love to get a cat. I love having animals around the house."
Trump was the first US President since James K. Polk (1845 to 1849) not to bring a pet to come and live in the White House.
(Visited 104 times, 1 visits today)
Subscribe to our Youtube Channel :
Follow Us on Instagram