Minister of Foreign Affairs who is also MCP Secretary General Eisenhower Mkaka has rendered the claims making rounds on social media that he is opening a bank as fake.
According to Mkaka, the solemn truth is that in partnership with three others, he is starting a deposit-taking Microfinance company whose minimum capital is K250 million.
All of his 3 partners in this adventure also got compensation from the FCB in the said case.
In May 2012, the First Capital Bank (formerly known as First Merchant Bank) fired 18 of its employees. Among these 18 employees was the bank's Senior Business Development Manager his name is Eisenhower Mkaka (now Minister and MP).
Immediately during the same month, the fired 18 employees teamed up and commenced a case against FCB at the Industrial Relations Court (IRC) through their lawyer Alan Chinula SC of William Faulkner.
The Court found for them and awarded them compensation, in the case in which the employees claimed about K16 billion.
However, the Court awarded them close to K1 billion which FCB paid in two chunks.
The first chunk bearing a total of K521 million was paid in July last year (2020).
The second chunk of K200 million was paid in March following a further court ruling that was made on 11th March 2021.
Out of the total award, 75% went to four employees including Honourable Mkaka.
Now, these four people have partnered into a Microfinance company, which some gullible people are misunderstanding to be a bank.
Their compensation was delayed as First Capital Bank appealed 4 times (losing all appeals in general) and the case went to Supreme Court twice.
This case has formed one of the authorities in labor relations cases.
The said Microfinance company was incorporated by the Registrar of Companies in December 2020.
Thereafter, a rigorous process to get an operating license from the Reserve Bank of Malawi (RBM) was immediately startled.
This process involved examination of the entrepreneurs' personal and business accounts among others.
It is only after fulfilling these strict requirements that an operating license was granted by the Central Bank.
Disregard, therefore, any lies that Honourable Mkaka is opening a bank and that he and his.
Getting compensation from unlawful dismissal by the employer and using the compensation to invest in the business is not corruption and will never be.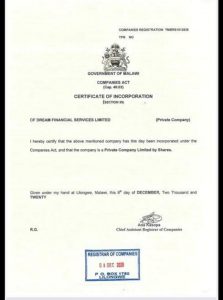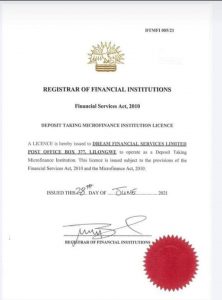 (Visited 21 times, 21 visits today)
Subscribe to our Youtube Channel :
Follow Us on Instagram