Nigeria – According to a news that was published yesterday by Linda Ikeji, it has been alleged that the management of Ignatius Ajuru University of Education in Port Harcourt, Rivers State, has suspended one of it lecturers, as he was wanted to have fun with one of his female students in order to make her pass.
Information given concerning the incident made it known that the female student, whose name was not given, failed the man's course and other courses, as the man demanded to make love to her before she can pass his course and other courses and while he was making his demands, he was recorded by the student and later reported to the school management.
After the matter was reported, the lecturer, whose name was given as Doctor Samuel Abiye from the Department of Curriculum Studies, was suspended for three months and placed on half salary, as the vice chancellor of the university, Professor Ozo-Mekuri Ndimele ordered that his last exams should be remarked through conference marking, which will be supervised by the Dean of Education.
Taking a look at the brave act that was demonstrated by the student, she should be given kudos for it because, she did not give in to the man's demand out of fear, like other students would have done, if they were in her shoes. Had it been that she decided to grant the lecturer his request, there is probability that she will still fail other courses and she might still even fail the man's course and aside, the man might keep using that to make love to her anytime he wishes to.
Other female students should learn from this because, if they can have the boldness to report lecturers who do demand to make love to their students before passing them, then their population will be reducing bit by bit and higher institutions will be more safe for female students.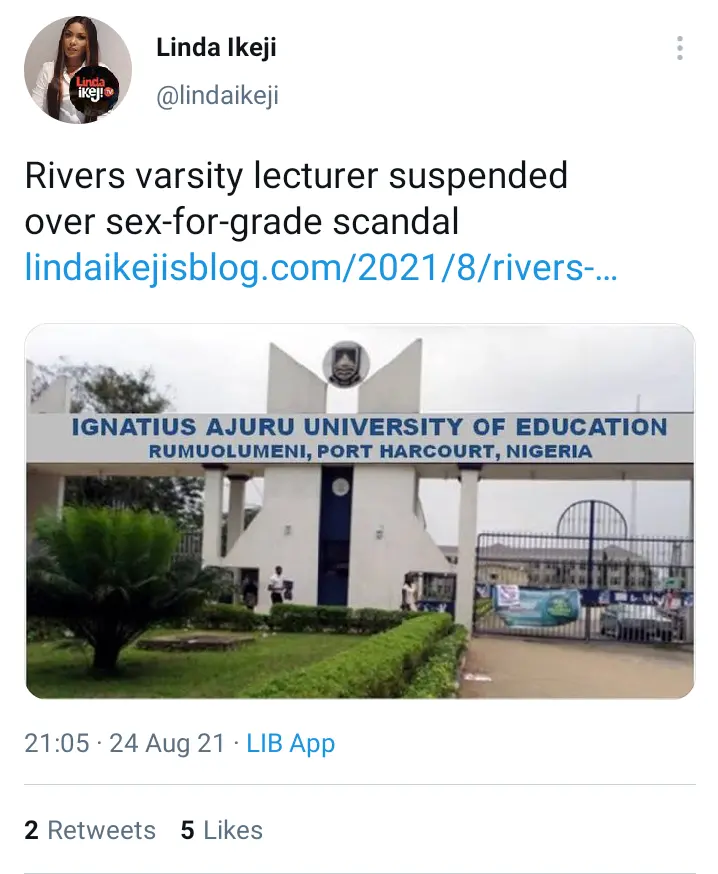 (Visited 325 times, 1 visits today)
Subscribe to our Youtube Channel :
Follow Us on Instagram