The Oldest Rapper in Nigeria Is Harry B Anyanwu popularly known as Harry B. He is also a Nollywood Actor.
Biography Of The Oldest Rapper In Nigeria (Harry B)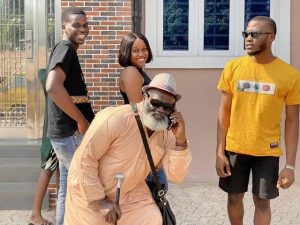 Harry B Anyanwu was born on October 8, in the year 1959, He is from Emene which is in Enugu state. As of 2021, he is 62 years old. He was born in Mbaise which is in Imo State, which is pre-dominated by the Igbo citizens of Nigeria. He lived in Enugu during his early days and attended Saint Patrick Secondary Emene, Enugu State before he left Nigeria in 1985. He studied at the United States of America for his university.
He has been in the Nollywood for many years and has been featured in many Nollywood movies. He never started his career as a rapper, he started as a Nollywood Actor and later become a a rapper. Though he made it clear that he has been into music quite some time but never got recognized until he came in the Nollywood. He has featured in movies like Agbaranze The Great Worrior, The King and the Royal Queens, Back from America, Papa Ogene and the thieves, The fear of the chief priest and many more.
His career in the music industry standard recently and he has recorded and released many songs like Zamo ft Slimbrowm, Kuo isi na wall feat Slimbrowm, Bella ft Slimbrowm and few other ones.
In Conclusion, Harry B is not just the oldest Rapper In Nigeria, he is also one of the oldest Rapper In Africa and in the world too. Apart from being the oldest Rapper, he is also a good rapper.
(Visited 44 times, 44 visits today)
Subscribe to our Youtube Channel :
Follow Us on Instagram