Nigeria – A couple, Deacon & Mrs Michael Nnamdi Nwankwo have welcomed triplets after 25 years of marriage.
The children, two girls and a boy, were decated at the Assemblies of God Church in Ojodu, Lagos State on Sunday, February 20, 2022.
The church shared the testimony on their official Facebook page.
"AMAZING TESTIMONY @ AGC OJODU. After 25 Years of waiting, the family of Deacon & Mrs.Nnamdi Nwankwo today dedicated their triplets… What a mighty God we serve!!!"
See photos below: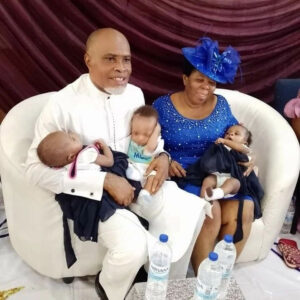 Subscribe to our Youtube Channel: