ZAMBIA – A mentally challenged young man aged 26 has formed a mutual friendship with an elderly homeless mentally challenged man in his 80s.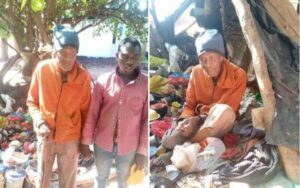 The picture below shows the young man named Mathews Njowe of Chirundu- Siavonga residence with the homeless man identified as Patrick Sitali.
Mr Sitali originally comes from Siavonga and has 4 children of which all of them neglected him. Currently, he is at Siavonga junction where they met with Mathews and he sleeps in a bin-like shelter without blankets. Mathews, despite his mental problem and seizure complications, when given meals by his widowed poor mother, he has been seen sharing it with Sitali without anyone telling him to do so.
Sometimes he buys him some assorted goods from the little coins he begs from people. Often times, these two have been seen dining together at the same bin-like shelter. In return, Mr Sitali , despite not having anything, shares whatever he has with Mathews.
These two have been seen getting along on several occasions.
(Visited 80 times, 1 visits today)