The Mzuzu City Council has come under heavy criticisms for siding with Mayor Gift Desire Nyirenda who has been arrested for allegedly defiling his 14 year old niece.
Nyirenda appeared in court on Monday for formal charges and bail application. The magistrate adjourned the case to Friday for bail ruling.
Yesterday the council released a statement where it showed the council was backing Nyirenda.
"The Council is deeply shocked to learn of the arrest and the circumstances associated herewith.
"Our thoughts are with him, his family and the people of Mzuzu," the council said in the statement.
The statement has attracted mixed reactions with many questioning the council for siding with the Mayor.
Writing on his official facebook page one of the social commentator Hellen Chabunya described the statement as nonsense.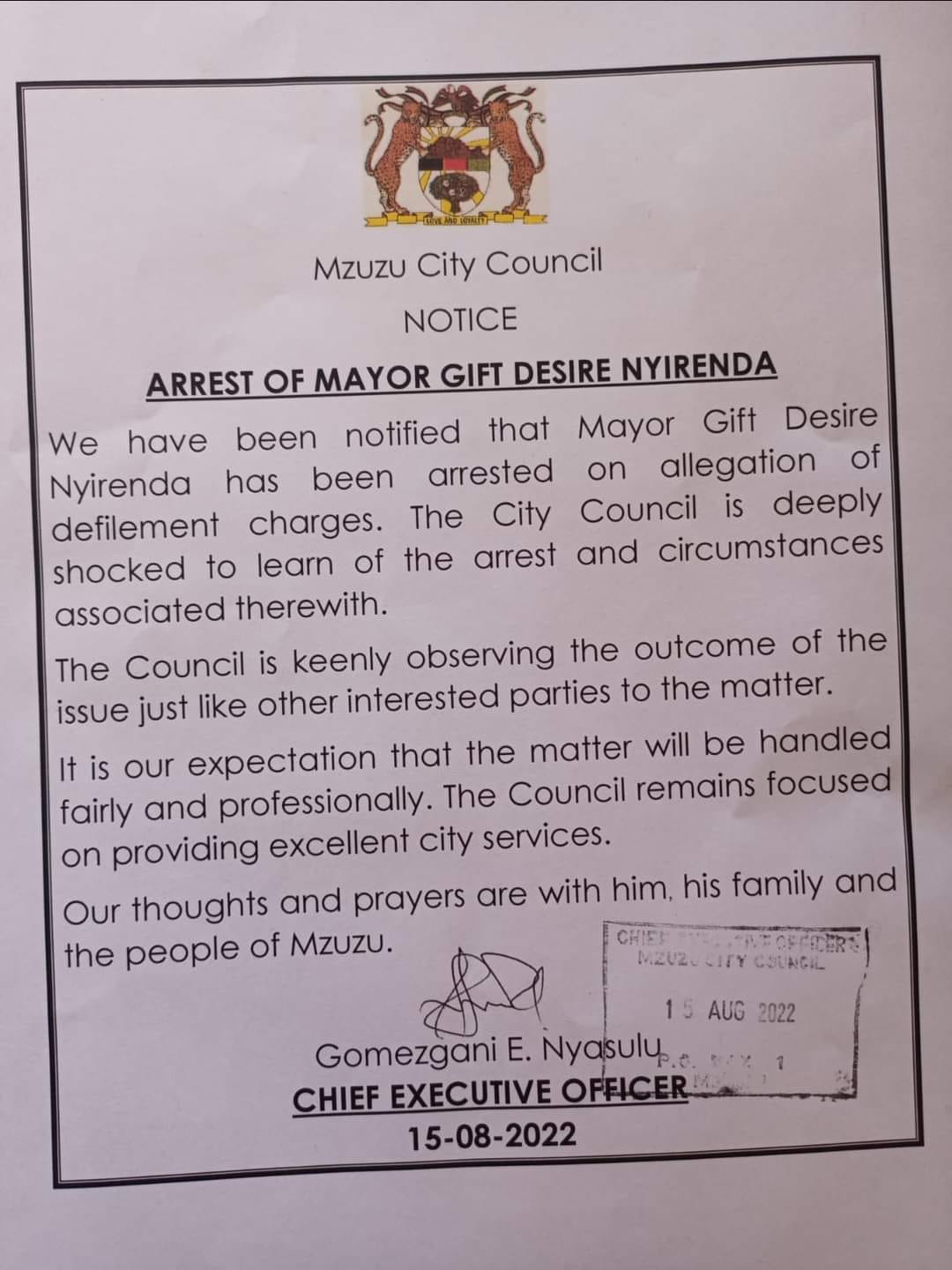 "This notice is nonsense! Mzuzu City Council should stand with the victim and not in prayer for the City Mayor! As he stands accused the council was meant to be impartial and not show that they have a side in this serious matter!
"Yes his innocent until proven guilty but do not re-victimize the young girl by openly supporting her alleged attacker," wrote Chabunya.
Concurring with Chabunya's remarks Onjenzani Kenani wrote: "Why is Mzuzu City Council using the weight of its office to side with the mayor who is accused of being a rapist?"
Another concerned citizen identified as Earnest Smarts Kanyenda wrote: "The PRO should have issued the statement. The wording could have been different. He just issued a statement as if he is talking to his subordinates only."
Maurice Oneil Kambirinya also wrote: "They seem not to use their brains when thinking, perhaps they use something below their belts."
Meanwhile, the case is set to resume this coming Friday.
Subscribe to our Youtube Channel: