For the past decade up to date the tobacco market selling season has been characterized by so many anomalies, from bloated bales of tobacco; which are filled with all sorts of foreign objects, to low buying prices of high quality tobacco.
The situation seems to be at a standstill as buyers and farmers failed to reach a consensus on Monday due to the high percentage of rejected bales and also due to the low prices which were being offered, which were as low as 50 cents a kilogram for Burely Tobacco.
According to buyers 85 % of the bales were rejected because farmers were mixing varieties of tobacco hence they could not spot quality leaf.
This then irked the irate farmers who wanted to take to the streets but they were however overtaken by police officers who fired one or two canisters of tear gas to disperse the angry farmers.
Tobacco Control Commission (TCC) boss, confirmed the situation but was non-committal on the issue.
There is growing talk that maybe it is high time TCC gave a consent to the local farmers to try and sell their tobacco in neighbouring countries like Zambia, Mozambique where tobacco fetches high prices which could be twice the amount companies in Malawi are buying our tobacco at.
For a long time now, farmers have cried foul regarding the buying price for their tobacco and they feel cheated considering the amount of effort and hard work it takes for a leaf of tobacco to be planted, taken care of until the point of harvesting and packaging into bales. It is however not only the effort and hard work but also the time wasted and the ever expensive farm resources and inputs.
We therefore feel it is high time that local farmers considered international markets if their fruits of success are to be realised and any profits are to come out of this business.
The rumours about international markets fetching high prices of tobacco are anything to go by then, the farmers ought to make use of such openings, otherwise local farmers will cry forever due to these buyers who dupe them by offering low buying prices for the quality leaf which they in turn sell at a higher price on other markets.
Maybe international markets are the lasting solution to this razz.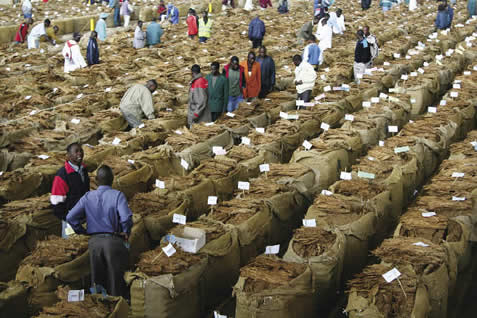 (Visited 24 times, 1 visits today)