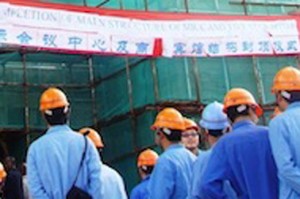 Driving through Malawi's capital, Lilongwe, it is difficult to miss the imposing building under construction in the city centre. It's the country's first five-star hotel, $90 million worth of well-appointed rooms, a state-of-the-art conference centre and 14 opulent presidential suites.
The hotel is being built by the Shanghai Construction Company, a Chinese firm, and is one of numerous projects funded in line with a pledge of $260 million of concessionary loans, grant and aid from China to Malawi to support development, including infrastructure.
At a ceremony marking the completion of the main building and conference centre, China's ambassador to Malawi Pan Hejun, said he expects the whole project will be completed by the end of the year.
"This will attract more and more foreign tourists to Malawi and enable Malawi to host international conferences such as the AU Summit," said Pan.
Chinese construction companies have been busy in Malawi. Parliament now operates from a grand new building which was opened in June 2010. That project cost around $41 million.
And this month, Mr Pan announced China will assist the Malawi Government to construct a university of science and technology in the southern district of Thyolo, which, he said, will be ready in just under two years.
"The university, which will accommodate more than 3,000 students with advanced facilities, will be one of the best universities in southeastern Africa, and will make great contributions to the national development of Malawi," said Pan.
Relations growing steadily
Chinese construction companies are also building a secondary school in Thyolo, and a 100km road between the northern districts of Karonga and Chitipa. The Asian nation has also promised to build a China-Africa Friendship School in Lilongwe, establish solar and biogas pilot projects and set up an agricultural technology demonstration centre.
By CLAIRE NGOZO
Subscribe to our Youtube Channel: