A list of interim officials of yet to be registered People's Party of State Vice President Joyce Banda has been revealed.
According to a report posted on  Malawi Democrat , Banda is the interim president , while former information minister in UDF government Clement Stambuli is the interim first deputy president and Mrs. Catherine Mwendelire is second deputy president.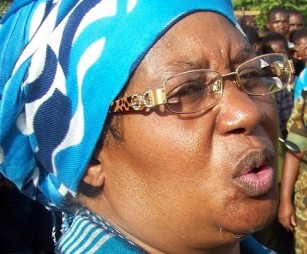 Notable politicians in the executive include a former minister in the UDF administration and presidential aspirant in 2004 for the defunct National Democratic Alliance (NDA) Brown Mpinganjira  who is treasurer general, Salim Bagus  (organising secretary) and  Paul Maulidi ( Secretary General).
Mpinganjira hinted recently that she would partner with the Vice President but said he had no interest in the party's leadership positions.
"The decision is not mathematical and a yes or no answer may not give a correct picture. Many people have been talking about me partnering with Banda, but you cannot partner with someone who has no political party. I am capable of working with anybody else," he said in an interview with Capital FM's Straight Talk programme .
Former Speaker of Parliament Sam Mpasu is research director while former deputy speaker Rev Peter Kaleso is campaign director.
The executive committee has also officials who served President Bingu wa Mutharika government, who include  former Attorney General Ralph Kasambara appearing as Legal Affairs Director and his deputy is  former director of Anti Corruption Bureau, Gustav Kaliwo. Also former Mutharika aide, Rev. Malani Mtonga is there as Religious Affairs Director .
Mpinganjira: Treasure general
Mpasu: Director of research
The report quoting the minutes of the party meeting said:  "The President informed the meeting that after thorough wide consultations with all parties concerned throughout the country it was resolved that the People's Party be registered with the Registrar of Political Parties"
Malawi Congress Party (MCP) former members are also appearing in the People's Party 'cabinet'. They include Boniface Kadzamira (vice treasurer general),  Kizito Ngwembe  who is Central Province chairman . People's Party is calling political regions as provinces.
Other notable names are of  former Malawi Polytechnic Principal, Henry Chibwana who is listed as vice secretary, former State House chief of staff Walace Chawawa is international Relations Director  deputised by  Dr. Jerry Jana .
Party spokeswoman is Faustuce Chirwa who is deputised by former UDF MP John Chikalimba and Levy Luwemba.
Head of women is former vice president of the defunct NDA, Clara Makungwa while Friends of Joyce Banda Network coordinator, Lawrence Mpofu is director of youth.
Artist  Khumbo Bazuka Mhango is a member together with ,  Makwenda Chunga, Kondwani Kuwonga, Yona Chimpeni, Miss Veronica Mbekeani and  Peter Valani.
Malawi Democrat report quoting  the minutes said  the first leaders to be registered will include Banda as President, Rev. Kaleso, Stambuli, Makungwa, George Kamanga,  Catherine Mwendelire and  Stephen Mwenye.
The party is set to be launched next month.
Kasambara: Legal adviser
The formation of the People's Party  comes after the ruling Democratic Progressive Party fired Banda as its first vice-president alongside Khumbo Kachali who was second vice-president when they refused to endorse President Mutharika's brother, Peter , to inherit power in 2014.
Nyasa Times sources in the think-tank drafting the constitution and manifesto denied that the party will follow principals of socialism as alluded to in some quarters.—(Reporting by Charles Kufa, Nyasa Times)
Subscribe to our Youtube Channel: