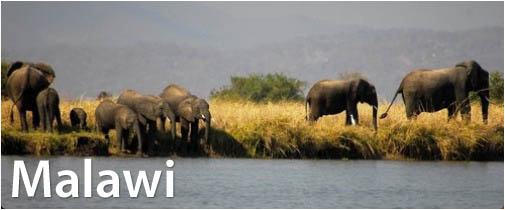 Situated on the iconic Great Rift Valley in Central Africa, and one of Africa's smallest countries, Malawi is affectionately known as 'The Warm Heart of Africa' and is rapidly emerging as one of the last undiscovered gems of Africa. With endless adventure and culture opportunities offered in a land famous for its welcoming people Malawi's highlights include National Parks, mountains and the stunning shores of Lake Malawi. Bordering Tanzania, Zambia and Mozambique, Malawi offers a spectacularly diverse landscape filled with some of the continent's most breathtaking scenery and home to towering mountains, prolific wildlife parks, great value Malawi hotels, rivers, plateaux, forests and one of Africa's most beautiful inland Lakes, Lake Malawi.
With an impressive historical culture, abundance of attractions and inspiring sense of national pride, Malawi is one of the most exceptional of African countries offering the intrepid explorer a truly unique experience of Africa and something genuinely extraordinary.
Malawi's unspoilt wilderness, game parks, verdant plateaus and rugged highlands attract a good number of adventure seekers and nature lovers and there is a lot to see and do in Malawi. Malawi's nine game reserves and national parks give ample opportunities to enjoy unspoilt wilderness and observe myriad wildlife cavorting in their natural setting. Particularly noteworthy are the Nyika National Park (elevation 2,300 m), a leopard habitat also known for its abundant orchid species, and Liwonde National Park, home to hippos, crocodiles, elephants, zebras and antelopes. The ideal way of visiting the parks is on a locally led tour in Malawi. Trekking and mountain hiking are also popular activities for visitors.
Lake Malawi, with its vast expanse of crystal clear waters, numerous beautiful palm fronted beaches and spectacular marine life, is the highlight of a Malawi holiday for many visitors. Apart from great diving, swimming and snorkelling opportunities, taking a Malawi tour to cruise down the lake's amazing 500 km length is enormous fun. Ferryboats take visitors to many islands and remote fishing villages around the lake. Good value resorts, Malawi hotels and lodges provide accommodation in Malawi at scenic locations on the lake shore. You can even use our interactive Malawi map to choose your hotel in Malawi based on its location.
Malawi's capital Lilongwe is a modern city situated in central Malawi. A green and pleasant city, its main attraction is the Old Town with its markets, Lilongwe hotels, cafes and bars. The largest town in the country is Blantyre, which is also the commercial capital. Located in the more developed southern part of Malawi, Blantyre boasts of many historic buildings and churches. It is an ideal base for tourists looking to explore the misty peaks of Mt Mulunje and other nearby attraction of Zomba Plateau and offers a range of Blantyre hotel options.
Stunning views, a great lake, fascinating wildlife, and a most friendly people are what await visitors in the Republic of Malawi. The laidback charm of it makes it even more appealing for many visitors. We are locally based and can help you find the perfect Malawi hotel or Malawi tour to ensure you have the best holiday in Malawi possible!
Subscribe to our Youtube Channel: