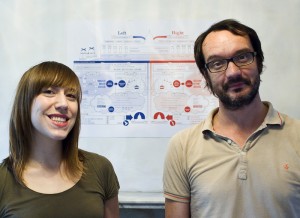 The designer posters created by our trustee Stefanie Posavec and information designer David McCandless have raised over £2,000 for Ganet's Adventure School. We would like to thank them both for generously putting their hard work and design skills to such good use.
Both Stefanie and David are well known around the world for their design work, and they have worked together on various projects. The money raised went towards the construction costs of the school's new classrooms, along with text books for the pupils.
Stefanie is also donating a share of profits to the school from her posters on show at the Pick Me Up exhibition at London's Somerset House. And if that wasn't enough, she is also giving a portion of profits from an edition of another poster – her Measuring Kraftwerk. See the design here: www.itsbeenreal.co.uk/index.php?/project/measuring-kraftwerk/ If you're interested in buying a print then contact Stefanie direct at stefpos(at)gmail(dot)com
We also have an exciting online charity auction coming up at the end of May. In her Wordbespoke project, artist Deirdre Nelson has created a collection of people's favourite words, and has turned them into artworks. For updates, add your details to our mailing list at http://eepurl.com/dPDAU
It's great to have such a variety of artists and designers helping the school. If you have a project which you'd like to use to help the school in some way, email info@ganetsadventureschool.org. We can help provide advice, publicity and practical support. As well as helping to support the school in Malawi, donating a proportion of profits from your project can help you get it into more prestigious exhibition spaces, obtain more publicity and even obtain donations of materials from suppliers.
The original edition of Left v Right posters has now sold out, though an updated edition of the posters is on sale at www.informationisbeautiful.net/store/ Remember that in the US, red represents right wing politics and blue the left wing, while in the rest of the world it's the other way round. Versions of the poster coloured both ways are available. This new edition does not include a donation to the school.
Stefanie Posavec: www.itsbeenreal.co.uk
David McCandless: www.informationisbeautiful.net
Subscribe to our Youtube Channel: