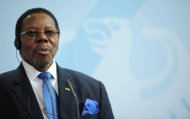 Malawian opposition on Friday blamed President Bingu wa Mutharika's "sheer arrogance" for Britian's decision to suspend budgetary aid to the poor southern African nation.
"The President had displayed sheer arrogance by fighting the British who are our major donor," Friday Jumbe, leader of the former ruling United Democratic Front, told AFP.
"Mutharika has no choice but to swallow his pride and apologise to the British and normalise our diplomatic relations. He is indeed becoming a dictator," Jumbe, a former finance minister, said.
On Thursday Britain's Department for International Development (DFID) announced its was suspending budgetary aid to Malawi over poor governance, as fast-deteriorating relations between the two countries reached a new low.
DFID accused the Malawian government of suppressing demonstrations, intimidating civil society organisations and legislating the obstruction of political opponents
Britain provided around £19 million ($30.7 million, 21.7 million euros) of budgetary aid last year, which was meant to help the government deliver a national strategy for poverty reduction against an agreed set of targets.
Jumbe said the measure would leave a "big hole in Malawi's resource envelope."
Nancy Tembo, a spokeswoman for the Malawi Congress Party, said the government was "so arrogant on the question of governance."
She said the aid suspension would hit "ordinary Malawians who will fail to access drugs in hospitals."
British aid was used in the health, agriculture and governance sectors.
The independent Nation newspaper described Mutharika as a 'Mr. Know-it-All' style leader who was "holding the key and accountable for the UK aid mess."
"If he chooses to continue playing difficult-which we fear is not beyond him–posterity will judge him."
Bilateral relations became strained in April when the WikiLeaks website published a diplomatic cable in which Britain accused Mutharika of "becoming ever more autocratic and intolerant of criticism".
The dispute led to the expulsion of both nations' ambassadors.
Jumbe argued what the expelled British high commissioner to Malawi, Fergus Cochrane-Dyet, said in his leaked memos to London was "nothing new but something which we Malawians had been saying all along."
Mutharika, Jumbe said, was "becoming a bad leader who will end up with a bad legacy that failed to deliver.
"He is going in the wrong direction. He is our employee who is not working for the common good of Malawians."
Subscribe to our Youtube Channel: