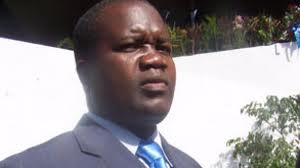 LILONGWE–Malawi Police Service has assured demonstrators that they will on Wednesday perform their constitutional duty and offer protection as long as they stick to their designated routes, mind their own business and not intimate others.
The statement was made before state television announced that the Malawi High Court had granted a citizen an injunction stopping the nationwide demonstrations. One observer however said it's more than likely that organisers will challenge the court's ruling which came down at the eleventh hour.
In what could be described as a ground-breaking statement, police Tuesday defied critics by saying:
"Peaceful demonstrations are a constitutional right and the Police wishes to remind the organisers to bear in mind that it is their equal responsibility to ensure that the demonstrations are peaceful and do not infringe on the rights of others," said police spokesman Willie Mwaluka said.
He said the police will allow demonstrators to travel in their designated routes and that the organisers should have marshalls that will be clearly identified to police and demonstrators to help on controlling their crowds.
"We ask everyone to abide by the law, not to carry any dangerous weapon and avoid inciting hatred or violence against any persons. No one should wear masks or anything that might obscure their identity,' said Mwaluka.
The police spokesperson said organisers and demonstrators should also avoid blocking routes or spaces meant for emergency services.
"We appeal to the business community to close their businesses along the demonstration routes and vehicles to obey traffic Police when given instructions," said Mwaluka.
There is tension in the country, especially in urban areas after ruling Democratic Progress Party militias threatened to cause violence during demonstrations. But spokesperson Hetherwick Ntaba disputed reports that its panga-wielding militias on Tuesday threatened to deal with anyone protesting against the Mutharika administration.
Ntaba said "violence was not the trademark of the DPP."
Meanwhile Zodiak Broadcasting Station (ZBS) has called on listeners and media fraternity to pray for their safety after a second vehicle for the station was torched by unknown gangsters at its premises in up-market Area 47 in the capital Lilongwe.
"We are not afraid as we do not know what wrong we committed and who is committing such acts. They came at 11pm and they were four, the guards watched hopelessly. All we can ask everybody is to pray for us during this difficult period," said ZBS Managing Director Gospel Kazako.–maravipost
Read more: http://www.maravipost.com/malawi-politics/society/5467-demo-countdown-police-assures-security.html#ixzz1SbTrLjgF
(Visited 48 times, 2 visits today)