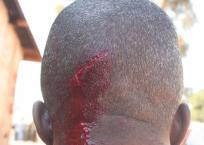 The Malawian authorities must immediately launch an independent investigation into the deaths of at least eight people shot by security forces during demonstrations that erupted into violence in the northern city of Mzuzu, Amnesty International said today.
At least 44 other people, including six children, are being treated for gunshot wounds at Mzuzu Central Hospital following Wednesday's unrest. Among the injured children are three 13 year-olds, two girls and a boy.
The army has reportedly been deployed in the capital Lilongwe, amid continued violence in townships surrounding the city.
"The Malawian authorities must immediately launch an independent, impartial and thorough investigation into their use of firearms resulting in these killings", said Erwin var der Borght, Amnesty International's Director for Africa.
"When the police use firearms, they must minimize injury, and respect human life. If there's reasonable suspicion that they have shot people arbitrarily, the suspects must be brought to justice in a fair trial", he added.
In recent months Amnesty International has documented increasing intolerance of dissent, and vilification of human rights activists by senior members of the government.
"It is high time that President Mutharika's government addresses the wider human rights and political concerns that gave rise to this situation," Erwin van der Borght said.
Demonstrations over fuel shortages and repressive laws recently passed by parliament turned violent as hundreds of angry youths clashed with police in towns and cities across the country on Wednesday.
Under UN policing standards, security forces must not use firearms except where there is no less extreme means of defence against an imminent threat of death or serious injury or to prevent crimes causing grave threat to life.
Sourced : http://www.amnesty.org/en/news-and-updates/violence-erupts-during-malawi-anti-government-demonstrations-2011-07-20
Subscribe to our Youtube Channel: