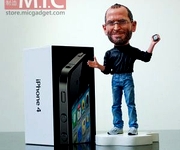 Apple's iconic chief executive officer and defacto spokesperson, Steve Jobs, has announced earlier today that he resigned from his position with immediate effect and, in an open letter published on Apple's website, said that he will continue to serve as the Chairman of the company's board, director and Apple employee.
He also "strongly recommended" to the board to "execute our succession plan" which confirms a report by the Wall Street Journal from last month that the Apple was looking at the post-Jobs era and was not considering bringing in a new CEO, with Tim Cook, who had until now assumed the role of COO at Apple.
Jobs had been on medical leave since the 17th of January and there are fears that his health has been worsening recently after he battled pancreatic cancer for a long period..
In the letter, he said "I have always said if there ever came a day when I could no longer meet my duties and expectations as Apple's CEO, I would be the first to let you know. Unfortunately, that day has come."
Steve Jobs has almost become synonymous with Apple itself and the fact that three terms related to today's announcement are trending on Twitter shows how big of an impact his departure at the helm of Apple could have on the company he founded more than 35 years ago.
Read more: http://www.itproportal.com/2011/08/25/steve-jobs-quits-apple-ceo/?utm_source=dlvr.it&utm_medium=twitter&utm_campaign=itproportal#ixzz1W29iHS9o
Subscribe to our Youtube Channel: