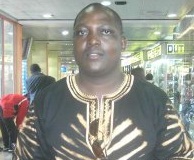 BLANTYRE–Ernest Mahwayo, a journalist with the Catholic and Balaka-based and Montfort Media, has been freed on bail after police arrested him for allegedly taking pictures of Pres Bingu wa Mutharika's controversial 58-room mansion in his home district of Thyolo, some 30 kilometres south of the commercial capital, Blantyre.
"I'm happy I'm out," he told fellow reporters who had come to support him. "It's hell in there; the condition in there is bad.
After pleading "not guilty" he was granted bail by Limbe First Grade Magistrate Anne Chikhadzula who ordered Mahwayo's "conduct likely to cause breach of peace" case to come up for trial on October 27.
There was drama at the beginning of the case on Tuesday as Mahwayo surprisingly pleaded guilty. Montfort Media immediately fired lawyer Joseph Gulumba from the case and engaged Ralph and Arnolds, a firm owned by renowned rights lawyer Ralph Kasambara.
Lawyer Lusungu Victor Gondwe asked Magistrate Chikhadzula for plea change when the case resumed on Wednesday, arguing that his client Mahwayo lacked legal counsel and was forced to admit guilt.
Southern Region Police Prosecutor Dave Mtete objected to this but he was overruled by the court. Gondwe then applied for bail, saying that the '48-hour' rule had elapsed since his client's arrest and it was unfair to keep in custody a suspect of a misdemeanor.
Mtete again vehemently opposed the bail application, saying releasing Mahwayo on bail would draw a "public outcry" as people would find it to difficult to understand why a journalist who took pictures of a private property belonging to the head of state wasn't in jail.
But Magistrate Chikhadzula agreed with Gondwe, saying M
Mutharika's mansion
ahwayo's case wasn't serious and imposed a K4,000 bail bond cash on Mahwayo, who was also told to provide one surety of K15 000 non cash, surrender travel documents and report to police Tuesday every two weeks.
Mahwayo's arrest has been received with condemnation by media and civil rights groups who argue that Ndata Farm isn't a protected place under the Laws of Malawi despite its ownership.
The journalist was doing a story on the history of Ndata Farm, Pres Mutharika's retirement home. The sprawling estate is among concerns raised by Malawi's non-governmental organisations (NGOs) in their fight for transparency. The NGOs would like the president, who wasn't well off when he took office seven years ago, to disclose his source of wealth.
Sourced: maravipost
Subscribe to our Youtube Channel: