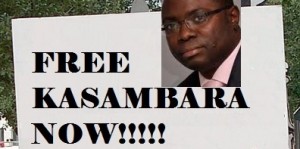 An outspoken critic of Malawi's President Bingu wa Mutharika is being held illegally and should be released, his lawyers have said.
Ralph Kasambara, who served as attorney general, was first arrested on Monday after reporting to the police an alleged petrol-bombing of his office.
He was released on bail on Wednesday but then re-arrested hours later.
Mr Kasambara was quoted in a weekend newspaper as saying the president was dictatorial and should resign.
President Mutharika won a resounding second term in office in presidential elections in May 2009, but has since faced criticism over his handling of the economy.
'Flouting the law'
Mr Kasambara's lawyers said on Thursday they went to Chichiri maximum security prison in the commercial city of Blantyre, but the wardens refused to release Mr Kasambara – despite a court order.
UK-based rights group Amnesty International also demanded his immediate release.
Continue reading the main story
"Start Quote
Bingu must resign forthwith for his incompetence and failure to defend democracy"
Ralph Kasambara Lawyer
"The rearrest of Ralph Kasambara indicates the Malawian authorities are willing blatantly to flout the law when it comes to dissenting voices," Africa deputy programme director, Noel Kututwa, said in a statement.
The BBC's Raphael Tenthani in Blantyre says Mr Kasambara – who served as Mr Mutharika's first attorney general when he came to power in 2004 – has been one of the president's most acerbic critics since falling out with him.
"Bingu must resign forthwith for his incompetence and failure to defend democracy," Mr Kasambara told journalists from Chichiri prison, repeating remarks he made in Malawi's The Weekend Nation newspaper.
Mr Kasambara said that his guards apprehended on Monday three of five men who he alleged were hired to petrol bomb his office.
But when Mr Kasambara took them to the police station, he was arrested instead.
The UK and other donors cut aid to Malawi in 2010, amid criticism of its economic policies and its attitude to the opposition and journalists.
Last July, at least 19 people were shot dead by police during anti-government protests over the worsening economy.
Malawi is one of the poorest countries in the world, with an estimated 75% of the population living on less than $1 (60p) a day.
(Visited 28 times, 1 visits today)