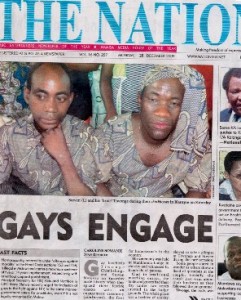 Government has opened a fresh attack on the media, the recent being an order that its departments should stop buying and advertising with some print media houses.
The order has been made by party's Director of Youth who is also Regional Governor of the north for the ruling Democratic Progressive Party (DPP) Frank Mwenifumbo on Sunday when President Bingu wa Mutharika was launching the construction of the Zomba-Blantyre road in Zomba.
"Newspapers have been writing bad things about the DPP and our president instead of reporting on good things. [So] if I see DPP loyalists, be it a minister or a chief executive, reading The Nation newspaper, we'll suspect them; you should stop that forthwith.
"If I see the [Nation] newspaper in your offices [of government departments], we'll suspect you. Stop buying it! Stop advertising in it. If you want to advertise, you can do that on the internet," Mwenifumbo said.
This comes hot on the hills of another threat on the media from the State House which implied that the government would use the Penal Code to arrest media practitioners deemed to "insult" the head of state.
But Media Institute of Southern Africa (Misa) condemned government's recent outbursts on the media, describing the practices as outdated and not in line with democracy.
"We are aware of cases where journalists have been threatened at press conferences for 'asking the wrong questions,' verbally assaulted and threatened by senior government officials, and had their company vehicles torched, to list but a few incidents. We deeply regret, therefore, to note how this government defines what constitutes a media freedom violation," Misa said in a press release.
Subscribe to our Youtube Channel: