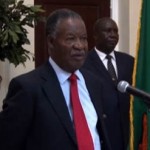 President Michael Sata has sent a message of condolences to the new Malawian President Joyce Banda following the death of that country's President Bingu Wa Mutharika who died after suffering a cardiac arrest on Thursday this week.
In his letter of condolences to the newly inaugurated President, President Sata expresses his deep sense of shock and sadness at the death of President Wa Mutharika.
"The Zambian people feel profoundly sorry for the loss of a true friend like President Wa Mutharika and shares Malawi's sadness during this period of enormous pain," stated the President.
ZANIS reports that President Sata stated that Zambia particularly remembers the late President for the many years he spent in the country during his tenure as Secretary-General of the Common Market for Eastern and Southern Africa (COMESA).
"On behalf of the Government and the people of the Republic of Zambia and indeed on my own behalf, I express our innermost condolences to you, the First Family, the Government and the people of the Republic of Malawi," stated the President.
The President described the late Malawian President as an exceptional leader and a close friend of Zambia saying his sudden death is a great loss not only for the people of Malawi, but for the Southern African region and the continent as a whole.
"Having known President Wa Mutharika during his tour of duty in Zambia, I can bear out that indeed, he was an exceptional leader and a close friend of our country," he said.
The Head of State stated that the late President Wa Mutharika, will also be remembered as a great reformer who championed the cause of humanity and dedicated his life to selfless service up to the time of his death.
"No doubt, my dear brother and colleague will be solely missed by all who knew him for the ideals that he firmly stood for," President Sata stated.
The President further stated that during the period of national mourning in Malawi, Zambia commiserates with the people of the sister republic and joins them in spirit and prayerful reflection as the nation seeks God's guidance to move forward.
The President said this in a Press Statement made available to ZANIS in Lusaka today by his Special Assistant for Press and Public Relations, George Chellah.
Subscribe to our Youtube Channel: