President Michael Sata has donated five million litres of fuel to Malawi to help facilitate funeral arrangements for former president Bingu wa Mutharika, Malawi Today reports.
In a press release from the Office of the President and Cabinet (OPC) on Wednesday, Chief Secretary to Government Bright Msaka said Zambian minister of mines, energy and water development Christopher Yaluma will make a symbolic presentation of the donation soon.
"The State President Joyce Banda wishes to express her deep gratitude to Sata, the government and people of Zambia for the kind and generous donation," Msaka said.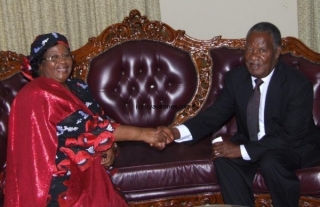 Five million litres of fuel is valued at US$ 5 million and is estimated to last for five days. Malawi consumes one million litres of fuel on daily basis.
Sata was deported from Malawi in 2007 under Mutharika's administration and stopped from meeting former president Bakili Muluzi. He was at the time Zambia's opposition leader.
When elected to the presidency in 2011, Sata refused to meet Mutharika and his government demanded an apology for the deportation. The two leaders later reconciled after the Malawian government apologised.
And the Times of Zambia reports that newly sworn-in Malawian president Joyce Banda has called for the restoration and strengthening of relations between Zambia and her country.
Banda said this in Lilongwe at a Press conference at which she gave an update on the funeral and burial arrangements of that country's late leader Bingu Wa Mutharika.
According to a statement released by First Secretary for Press at the Zambian High Commission in Malawi Chansa Kabwela, President Banda told journalists that she had a lengthy telephone conversation with Zambia's President Michael Sata on Monday where they talked about the two countries' relations.
She said that as much as the relations between Zambia and Malawi were not severed per se, it was important for the two nations to cooperate because of proximity and historical ties.
"I also spoke with President Sata of Zambia. He offered his condolences to the bereaved family and the people of Malawi. We both committed ourselves to the restoration of cordial diplomatic relations between our two governments," she said.
The remains of President Wa Mutharika are expected in Malawi today.
(Visited 30 times, 1 visits today)