Media freedom in Malawi has been commonly deplored, but amidst the political transition that brought Malawi its first female head of state last month, media freedom is beginning to take an unfettered shape.
The topic was denounced at a UNESCO funded event held by the Media Institute of Southern Africa (MISA) Malawi chapter in Blantyre last week, in commemoration of World Press Freedom Day on May 3rd.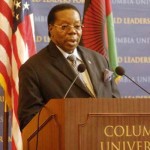 The event was titled "Media Freedom and Freedom of Expression in Malawi: The Role of Human Rights Defenders in Promoting the Rule of Law and Constitution in Malawi," and a debate ensued as NGO workers, journalists, academics, and government officials who sat on a panel discussed the topic.
"The defence of human rights is about informing people on time, about surveillance…. it is about evaluating the performance of all authorities responsible for our social welfare… and it is also about the most important thing which is advocacy" said Emmanuel Kondowe, acting deputy executive secretary for Malawi National Commission for UNESCO, as he asserted that true and accurate information is only possible through free media.
Kondowe futher expressed that the media is at the forefront of defending the aspirations of Malawians, defining the media's role as "drawing attention to human rights infractions."
"[The media] has the power to reach out to the masses and influence opinion, as well as foster change," said Edith Kambalame, the features editor at The Nation.
Kambalame also introduced the view that change can also be fostered on an individual level as "every Malawian is a human rights defender" and the other panelists unanimously agreed.
"We have the right to defend our own rights apart from somebody else defending for us" said Margareth Ali, vice chairperson of Human Rights Consultative Committee.
Media freedom in the past fell privy to scrutinization as panelists and audience members alike reviewed the media landscape that existed under the power of past president Bingu wa Mutharika's regime.
"The new government is only a few weeks old, but with the previous one, we were facing many difficulties" said Ali, referring to organizations that were condemned for helping the media.
"Again, events in our recent past attest to this. Journalists have been attacked by their fellow citizens and not least by some sectors of society who are charged with protecting the sanctity of life including the lives of journalists," said Kondowe in reference to the harassment journalists have faced.
In response, George Pemba, Regional Information Officer for the South, spoke on behalf of the government in order to proclaim change."You may agree with me that the human rights defenders including the media were not free enough to express themselves or disseminate information,
"[Now,] the freedom is there and present, particularly with the coming in of this new government. You may recall when the new Minister of Information was being sworn in, the head of state indicated that what she would want to see and hear is the truth and only the truth that has to be given out to the public.
"This is an indication that government is more than ready to make sure that human rights, especially media freedoms and freedom of expression are upheld in this country."
Francis Chikunkhuzeni, lecturer of  Mass Media and Society at Polytechnic, sent a message to all journalists and human rights defenders in regards to a way forward.
"We should be very optimistic, but cautiously optimistic because change is usually gradual. We are not going to reinvent our practices overnight."
(Visited 78 times, 1 visits today)