The Malawi Energy and Regulatory Authority (Mera) has warned it will revoke licenses or impose a fine on fuel dealers who are hoarding the commodity in anticipation of fuel hike following the recent devaluation of the kwacha.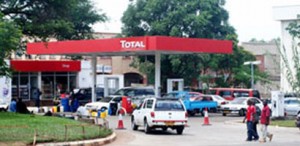 After the Reserve Bank of Malawi announced on May 7 that it has devalued the Kwacha by about 48 percent, some filling stations stopped selling fuel waiting for the pump price to be hiked so that they make extra profit.
But the energy regulatory body says the practice is illegal and punishable by law.
"Malawi Energy and Regulatory Authority (Mera) has noted with great concern that some duly licensed filling stations operators and oil marketing companies in the country are hoarding fuel in anticipation of an increase in the price of fuel following the devaluation of the Malawi Kwacha.
"In this regard, Mera would like to remind all filling station operators that hoarding of fuel undermines the continuity of Malawi Energy and Regulatory Authority(Mera) supply of fuel contrary to the spirit of section 9(2)(a) of the Energy Regulation Act 73:02 of the Laws of Malawi. Furthermore, all retail licenses are reminded of their license obligations in the area(s) of the liquid fuels supply chain," reads a statement from Mera.
Mera says it has since embarked on a campaign to check which filling stations and oil marketing companies are involved in the malpractice and has urged the dealers to start selling fuel immediately.
"Mera hereby directs that filling stations and oil marketing companies must sell fuel which they have to consumers without discrimination.
Meanwhile, Mera monitoring team is undertaking a dipping and inspection exercise at any filling station and fuel depot or oil marketing company found hoarding fuel shall be subjected to the sanctions provided for under the Energy Regulation Act, and the Liquid Fuels and Gas(Production and Supply)Act Cap 50:03 0f the Laws of Malawi," it says.
The body further warns that once caught hoarding fuel, oil marketing companies and filling stations will be convicted and be liable to pay a fine of K50,000,000 apart from having their licenses revoked.
"Any filling station operator or oil marketing company that disobeys the directive shall, in addition to the suspension or revocation of a license, be prosecuted for offenses under the Energy Regulation Act as well as The Liquid Fuels (Production and Supply) Act whose punishment is K50,000,000 fine or imprisonment for ten(10) years upon conviction," warns Mera.
Subscribe to our Youtube Channel: