The Malawi government has sent a delegation to neighbouring Zimbabwe to demand payment of maize sales worth US$20m which Lilongwe sold to Harare early 2011 under late President Bingu wa Mutharika.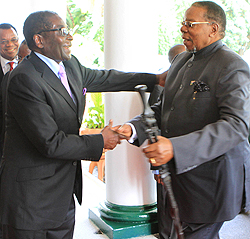 Minister of Energy Dr. Cassim Chilumpha told Face Of Malawi that the money would help Malawi to buy fuel.
"The delegation left on Thursday (May 17) to collect the money which we believe will play a crucial role in helping us buy fuel," said Chilumpha.
Malawi sold 66, 000 tons of maize to Zimbabwe but Lilongwe never collected payment apparently because late Mutharika and President Robert Mugabe had a brotherly relationship.
"In true sense Mutharika never bothered about the payment and some of us thought it was an indirect donation," said a senior government official who sought anonymity.
The Malawi maize helped to ease hunger that had hit Zimbabwe shortly after Harare fell out with major donors.
Meanwhile, the first chunk of fuel bought with from money loaned from South Africa has arrived in Malawi.
South Africa High commissioner to Malawi Mrs. Ntombile Mabude said she was happy that Malawi is transparent in the purchasing fuel.
She was however non-committal on the conditions surrounding the loan but only said it was a soft loan.
It is highly likely that Malawi will reciprocate the good gesture from the rainbow nation by supporting Ndlamin Zuma for the post of chairperson of the African Union during the June summit to be held in Malawi.
(Visited 28 times, 1 visits today)