Opposition Democratic Progressive Party (DPP) has revealed that it is going to hold its long awaited National Convention before the end of this year, a top party official has confirmed.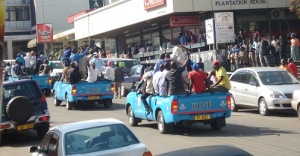 Among other crucial issues to be done at the Indaba, party members are expected to choose a torch bearer who is going to represent the party during the 2014
General Elections.
Interim President of DPP Professor Arthur Peter Mutharika is highly favoured to win the position if the current DPP set up is anything to be taken as a yardstick.
DPP Secretary General Wakuda Kamanga has told the local media that preparations for the Indaba are currently underway.
"There was no time in the past that we came out very definite like we are doing now saying that between October and November we are going to hold a convention. I am sure all our supporters are hearing this for the first time.
"We are now talking about definite time frame on when we will have the indaba," Kamanga was quoted as saying by the local media.
Kamanga further said that Professor Peter Mutharika would like the convention to be held before the end of the year and that he is ready to bankroll the Indaba.
Meanwhile, Kamanga has said that the race for the hot position will be open to any aspirants for the party.
The DPP is also expected to choose other positions for the National Executive Committee to replace the National Governing Council which was chosen by former Head of State Ngwazi Professor Bingu wa Mutharika.
The former ruling party has become an opposition party following the taking over of leadership of the country by President Mrs. Joyce Banda following the death of President Mutharika.
President Banda's Peoples Party (PP) is now the ruling party in the country.
United Democratic Front (UDF) also indicated that it is going to hold its national convention before the end of this year.
Subscribe to our Youtube Channel: