Malawi President Joyce Banda on Monday said her government is committed to improving human rights and political governance in the country.
Banda was speaking at Sanjika Palace in Blantyre, hours after officially moving in from Mudi Residence, during her audience with former Malawi Human Rights Commission (MHRC) members whose mandate expired last Wednesday.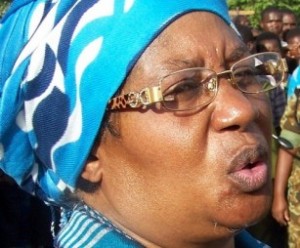 The President pledged to ensure that Malawi cleans up her image, saying she is aware that MHRC is a critical institution that would help the country to safeguard the Bill of Rights entrenched in the Constitution.
Said Banda: "I am aware that in the past three years, the country's image in so far as observance of human rights and political governance [was concerned], was badly damaged. This cost us some relations with international partners and also led to suspension of donor support to Malawi."
The President said her administration will protect all human rights defenders, ensure that Malawi improves State party reporting and carry out necessary reforms to address pertinent issues raised by the former MHRC commissioners, among others.
She also promised to ensure timely appointment of commissioners after getting recommendations.
Speaking earlier, former MHRC chairperson John Kapito admitted that their cohort of commissioners worked under intimidation, harassment and death threats by the former regime under late president Bingu wa Mutharika.
Said Kapito: "This is a unique moment for me because I am seated here meeting a Head of State without my heart pumping hard. I am cool and comfortable before a President who is supposed to offer advice. I have had three meetings with your office in the past, but the environment was not conducive. I hope your government works towards maintaining this."
Kapito said the commission handled 1 640 complaints, including challenging Section 46 of the Penal Code, joining the Electoral Commission case and investigating the death of Polytechnic student Robert Chasowa.
Subscribe to our Youtube Channel: