As one way of mending fences with various communities in the country, Inspector General (IG) of Malawi Police Service (MPS) Lot Dzonzi on Tuesday evening visited Chancellor College, a constituent college of the University of Malawi, where he assured lecturers and students of academic freedom.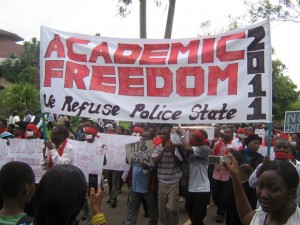 The police chief is on a mission to win back public trust of the police, which was eroded in the era of the late president Bingu wa Mutharika.
Addressing the lecturers first, Dzonzi said the police will only succeed in its mandate by working in partnership with various communities such as the university fraternity.
"The impact of academic freedom affected everybody in society. Let me assure you that I will respect what the Constitution says about academic freedom. You should also know that a student is not a spy and I will never listen to anything that can destroy the relationship we are rebuilding today," he said.
Dzonzi said the country needs to concentrate on issues that can bring positive impact to its citizens.
Chancellor College Academic Staff Union (Ccasu) president Sunduzwayo Madise said the IG's visit signalled a new chapter in the relation between the police and the university.
"Yourself [the IG] being a product of Chancellor College, we feel proud of your appointment and confirmation as the new police chief. However, in a multiparty system, there are a lot of expectations by the people from the police service stemming from its conduct," he said.
Speaking to the students, Dzonzi advised them to have a purpose in life, saying it is only visionary people who are the inspiration of all civilisations.
He also assured the students of maximum security.
Students Union of Chancellor College (Succ) president Patrick Phiri described the IG's move as a brave one and hoped for better things to come.
The college was closed for close to nine months over academic freedom after former IG Peter Mukhito summoned associate professor Blessings Chinsinga over a public policy lecture he gave in class.
Subscribe to our Youtube Channel: