Rapper 50 Cent is currently in Dubai, where he launched his custom line of headphones, SMS Audio.
50 Cent's line of headphones will go on sale this November in the country, the rapper said during a press conference. 50 made the announcement during an appearance during the Gitex Technology Week conference that is taking place in the country this week.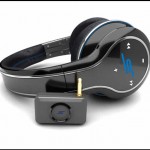 The rapper also made an appearance at the Virgin Megastore in the Mall of the Emirates to launch the SMS Audio brand.
There will also be a charity aspect to 50?s business dealings in the Middle East, since a portion of the proceeds will be donated to the Dubai Autism Center.
50 Cent also hosted a Q&A with students at the American University in Dubai, during his appearance in the Middle East.
(Visited 46 times, 1 visits today)