South Africans appeared resigned on Thursday to the inevitability of one day saying goodbye to former president Nelson Mandela after the 95-year-old anti-apartheid passed away 5th Dec 2013
Madiba, as he is affectionately known, is revered among most of South Africa's 53 million people as the architect of the peaceful 1994 transition to multi-racial democracy after three centuries of white domination.
However, with his latest hospitalisation — his fourth in six months — a realisation has set in that he will not be around for ever.
His deterioration , a few months after being admitted in a serious but stable condition with a lung infection, had caused a perceptible switch in mood from prayers for recovery to preparations for a fond farewell.
"We will miss him very much. He fought for us to give us freedom. We will remember him every day. When he goes I will cry."
In a statement, President Jacob Zuma's office; President Nelson Mandela died peacefully at his Johannesburg home on Thursday after a prolonged lung infection, President Jacob Zuma said.
Since stepping down in 1999 after one term as president, Mandela has stayed out of active politics in the continent's biggest and most important economy and his passing is expected to have little political impact.
His last public appearance was waving to fans from the back of a golf cart before the final of the soccer World Cup in Johannesburg's Soccer City stadium in July 2010.
During his retirement, he has divided his time between his home in the wealthy Johannesburg suburb of Houghton, and Qunu, the village in the impoverished Eastern Cape province where he was born.
The public's last glimpse of him was a brief clip aired by state television in April during a visit to his home by Zuma and other senior officials of the ruling African National Congress.
At the time, the 101-year-old liberation movement, which led the fight against white-minority rule, assured the public Mandela was "in good shape", although the footage showed a thin and frail old man sitting expressionless in an armchair.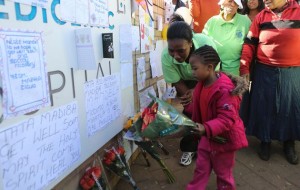 Subscribe to our Youtube Channel: