A former Oklahoma middle school teacher who has publicly admitted to having sex with a 15-year-old student in her classroom was stunned when on Wednesday a judge sentenced her to 10 years in prison.
Jennifer Caswell, 29, formerly known by her married name Saxton, pleaded guilty in June to second-degree rape and other related charges, a year after her arrest on suspicion of carrying on an inappropriate relationship with a minor.
In May, Caswell appeared on the Dr Phil Show claiming that she was 'not a rapist' and blamed the 15-year-old boy for making the first move.
'I didn't force anything. I didn't manipulate. I didn't take advantage,' she said at the time.
On Wednesday, Harmon County District Judge Richard Darby sentenced Caswell to 15 years in prison, with five years suspended, for each of the six incidents involving sex with the teenager.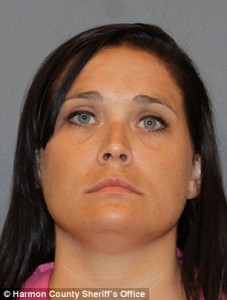 The sentences are to run concurrently, totaling 10 years behind bars for the 29-year-old divorced mother of one from Hollis.
'I can't say that we had ever considered it being that harsh,' Caswell's attorney, David Cummins, told the station NewsOK after the hearing.
Cummins said they had expected a maximum sentence of five years.
Caswell, who has a 6-year-old son, will only become eligible for parole in 8.5 years. After her release, she will be required to register as a sex offender.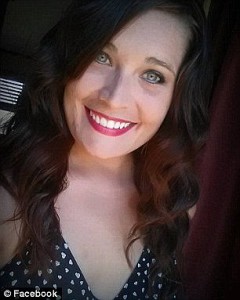 In the wake of Caswell's sentencing, the young victim's mother said she feels the disgraced teacher's punishment is fair.
The father, whose lawsuit seeks $1million in damages, alleges that at least two people saw Caswell engaged in sexual acts with his son in her classroom.
After she resigned in April 2014, but was allowed to keep her teaching credentials, Caswell had sex with the boy in a vehicle, her house and the boy's father's house, according to prosecutors.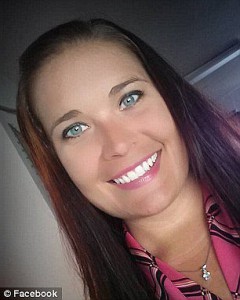 After the woman followed the 15-year-old 650 miles to Mississippi, where he had been sent to stay with his mother, the boy began cooperating with authorities.
Caswell has since had her teaching credentials revoked.
During her appearance on the Dr Phil Show in May, Caswell suggested it was the boy's persistence that led to them having sex in her classroom last April.
She told Dr Phil: 'He came in, I was working on things, he kept coming closer to me and I would kind of walk away to the other part, you know another room, another areas of the classroom and he just walked up to me and then he kissed me. And then it just kind of went from there.'
'I was walking around the classroom straightening up the desks and he came and I guess it was standing up,' Caswell said.
The 29-year-old admitted that she did not tell the student to stop what he was doing.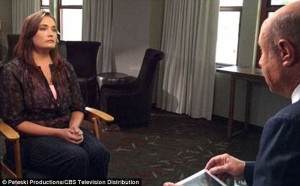 She said: 'I kept on saying, "No you know we can't do this. No, no, no."
'He wasn't forcing me, I mean, I couldn't easily just walked out of my classroom, but I didn't.
'But I was resisting because I knew it was wrong, but I didn't.'
Caswell said that following sex with the student, she felt 'terrified'.
'I just couldn't believe I had done something like that,' she added.
The sexual encounter took place within six weeks of Caswell having her teaching certificate. She was arrested two months later.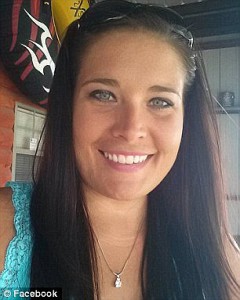 Caswell claimed her failing marriage with her now ex-husband, as well as the culture in her small town, all contributed to the unlawful relationship.
She said: 'I felt very unwanted by my husband. I was with him for ten years and I was never complimented. We never held hands or were physical.'
The former English teacher said she was flattered and came to enjoy the attention, flirting and compliments she received from the student.
She told Dr Phil: 'He was very flirty and I should have put a stop to it and I didn't. I wasn't used to the attention.'
Subscribe to our Youtube Channel: