Parents of the 14 students from Polytechnic arrested on Friday for protesting against fees hike are holding vigil at Blantyre Police in the commercial capital demanding for the immediate release of their sons and daughters.
Students joined their friends from Chancellor College in Zomba, protesting against fees hike and now the students have now spent three days while in police cell.
Speaking in an interview with the press, parents of the arrested students have complained that their sons and daughters are being ill treaded by the so called reformed police.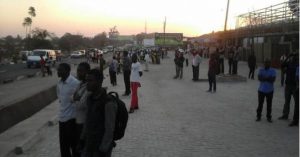 On his part, Southern region police spokesman James Kadadzera has trashed the claims by the parents, saying no one is being ill-treated.
Meanwhile many people including human right activist have asked the Democratic Progressive Party (DPP) to deal with police officers seen in a video harassing two female students from CHANCO.
The two police officers are seen beating up the two girls without any reasons.
Speaking with FaceofMalawi reporter, Timothy Mtambo, Executive Director for Center for Human Right and Rehabilitation said the police should reveal the identity of the two police officers.
Mtambo also urged the parents of the abused students to file a law suit for the said officers.
(Visited 5 times, 1 visits today)
Subscribe to our Youtube Channel :
Follow Us on Instagram