Head of the Synagogue Church of All Countries, Temitope Joshua, famously known as Prophet TB Joshua, has said his prophecy on US election was not off the check. He included that individuals require profound comprehension to have the capacity to interpret it.
Last week, Prophet Joshua, prophesied that Hillary Clinton would win the US presidential election but the election was worn by Donald Trump.
He told his congregation that he "saw" a woman winning.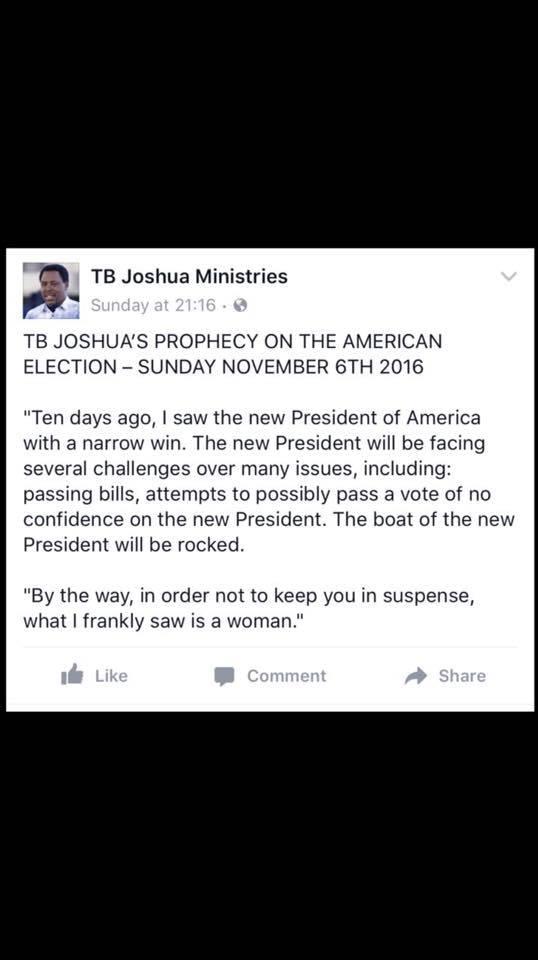 During a service at the headquarters of his church at Ikotun, Lagos on Sunday Prophet TB Joshua said, "there was nothing controversial about the prophecy. It is human beings that are controversial."
"We're Not On The Same Spiritual Level, You Don't Have The Capacity To Interpret My Hillary Clinton Prophecy," said TB Joshua.
He stated that his words were misinterpreted because,"we are not on the same level (of spiritual understanding)", an explanation which drew applause from his congregation.
Meanwhile debate continues on the social media over TB Joshua's prophecy.
(Visited 5 times, 1 visits today)
Subscribe to our Youtube Channel :
Follow Us on Instagram