An elderly woman has stunned people with her dramatic actions after she stripped n*ked in front of many people to make a point.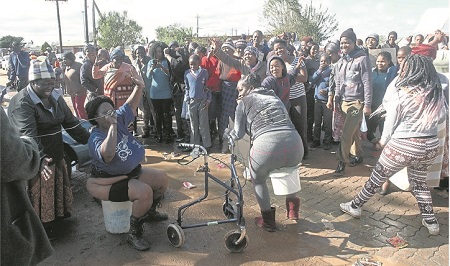 shidi Nyembe, a 68-year-old South African grandmother took an innocent protest over school toilets too far yesterday.
The woman undressed herself in full view of schoolkids, cops and parents, apparently to make the point that kids also deserve dignity.
According to Daily Sun SA, Tshidi Nyembe said she took off her clothes out of desperation as parents were tired of waiting for proper toilets at Barcelona Primary School in Etwatwa, Ekurhuleni.
"Our kids cannot be using the bucket system after 23 years of democracy. This is unfair. The toilets are unhygienic and by protesting, we want to force the department to take us seriously.
"Our kids pick up diseases from these dirty toilets." SGB chairman Fraser Komane said the portable toilets at the school were disgusting and the mobile classrooms were also in a terrible state.
"The department tells us we are not on the priority list. They are building better schools in other areas but they have forgotten us. We need schools like all the other places in the province," he said.
Komane said they had locked the school gates and there would be no teaching until the department delivered materials to build better toilets.
"These toilets are dangerous and we fear our grade R pupils will fall in."
Komane said parents had a meeting on Sunday and decided not to allow any teachers or pupils into the school until the department listened to them.
"Protest is the only thing our government listens to. We have been trying to negotiate peacefully but it's not getting us anywhere."
Officials from the Gauteng Education Department visited the school yesterday and a meeting was planned for today to discuss ways to resolve the problem.
Subscribe to our Youtube Channel: