A rather shocking discovery has been made beneath the desert sands of Egypt, sparking some questions about it.
Photos have shown a stunning discovery which was made beneath the sands of Egypt 'Äď and "more secrets" are sure to follow.
According to Daily Star UK, archaeologists have unearthed three tombs near Samalout, 125 miles south of the capital, Cairo.
It follows the 2015 discovery of 20 tombs at the same dig in the Al-Kamin al-Sahrawi area.
Now authorities believe that the tombs are just part of an enormous burial complex.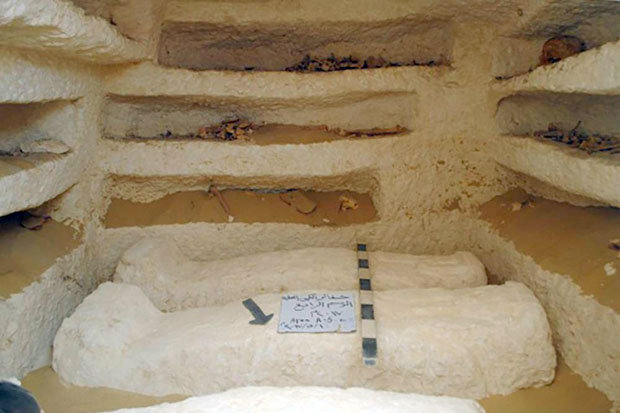 Ayman Ashmawy of the government'Äôs Ancient Egyptian Antiquities Sector called it "very important".
"A fact suggests that the area was a great cemetery along a long span of time," Dr Ashmawy said in a statement.
The first tomb of the newly-discovered tombs contained four sarcophagi with lids carved into the likeness of human faces.
Inside the tomb, which is accessed by a vertical shaft carved into the rock, there were also nine burial holes.
 A second tomb comprised two burial chambers, the northernmost holding the remains of two sarcophagi.
A collection of six burial holes, one of which was used to bury a small child, were also inside.
"This was the first time we found a child burial at this site," said dig chief Ali al-Bakry.
The second burial chamber holds only the remains of a wooden coffin, he added.
Archaeologists have yet to open the third tomb newly discovered at the site.
It's believed the finds date back to Egypt's 27th Dynasty, which began some 2,500 years ago.
Studies on the bones recovered suggests they were from men and women of various ages, and children.
A Ministry of Antiquities press release ended by saying that "works are under way in order to reveal more secrets."
(Visited 24 times, 1 visits today)
Subscribe to our Youtube Channel :
Follow Us on Instagram