President Professor Arthur Peter Mutharika has fired former minister Salim Bagus as one of the Board Members at Air Cargo Limited for defecting to Malawi Congress Party (MCP), faceofmalawi can reveal.
On Saturday Bagus, who served as Minister in the Bakili Muluzi's UDF administration and was national, organising secretary of Peoples Party before he joined DPP dumped the Party and joined MCP during a rally organized by Muhammad Sidik Mia.
In his speech, Bagus said he was joining MCP to bring his experience and deliver meaningful change to Malawians.
The development did not please some DPP top blasts including President Mutharika hence the firing.
"Please be advised that Government has terminated your appointment as a Member of Air Cargo Malawi Limited with effect from September 26, 2017.
'ÄúAs previously informed during the time of appointment, the appointment was not an employment contract hence it is bound to be terminated any time Government sees it fit to do so. This means that Government reserves the right to terminate your appointment at any time before the end of the said term and such termination can be in writing or a radio announcement,'ÄĚ reads in part the letter addressed to Bagus.
Government has not explained reasons for the firing.
Meanwhile some quarters have linked the firing to the decision taken by Bagus to join the Malawi Congress Party (MCP).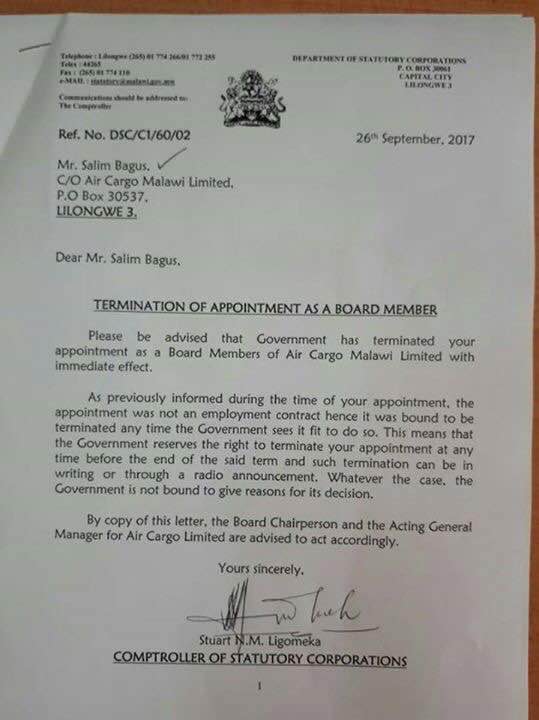 (Visited 19 times, 1 visits today)
Subscribe to our Youtube Channel :
Follow Us on Instagram