U.S. and South Korean Marines are holding a three-week-long winter training drill in the mountains near Pyeongchang.
The winter war drills began on December 4 and will last until December 22, South Korean Marines said Tuesday, quoted in the Yonhap news agency.
More than 400 soldiers have been taking part in the drill—200 South Koreans and 220 U.S. troops normally stationed on the Japanese island of Okinawa—which has been held since 2013 to train the military to be able to fight at temperatures as low as -4°F.
South Korean and U.S. Marines take part in a winter military drill in Pyeongchang, South Korea, December 19. Kim Hong-Ji/Reuters
As part of the exercise, the soldiers have simulated combat on skiing slopes, performed push-ups and cavalry battle games, as well as wrestling shirtless in the snow.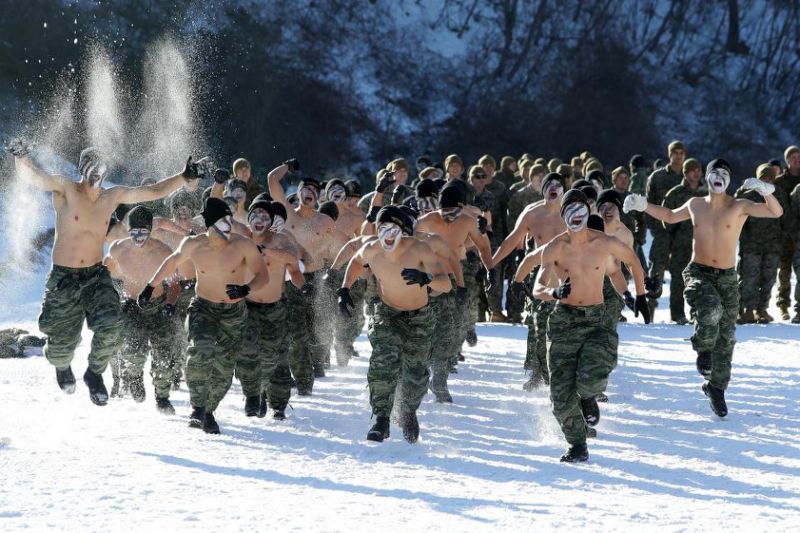 "Both the U.S. marines and the ROK marines have covered over-the-snow ability. We've covered reconnaissance skills as well as critical combat skills in a cold weather mountainous environment," U.S. Marine Corps Captain Thomas Rigby said, quoted in a video published by Reuters.
Winter military drills in Pyeongchang include shirtless wrestling. Kim Hong-Ji/via Reuters
"Throughout training we've increased both of our war fighting capabilities as well as creating lasting friendships that we will take back with us when we head back to the United States," he added.
The soldiers also posed for a photo showing a banner in both Korean and English reading "Best of luck at the Pyeongchang Olympics," adorned with the South Korean and the U.S. flag at each side.
U.S. and South Korean marines pose with a banner advertizing the 2018 Winter Olympics in Pyeongchang, the South Korean city, Chung Sung-Jun/Getty Images
"The U.S. and South Korea marine corps wish for the success of the Olympics. The marine corps reconnaissance forces also will do our best for the Olympics security operations," said South Korean Marine Corps Captain Shin Hyong-Youn, quoted in Reuters.
Amid growing concerns of possible North Korean provocation during the Olympics, South Korea plans to dispatch 5,000 armed forces to ensure the safety of the games—double the number of those on duty during the 2002 FIFA World Cup co-hosted with Japan—according to a Reuters report that quoted official documents and government sources.
Source: YahooNews
(Visited 13 times, 1 visits today)
Subscribe to our Youtube Channel :
Follow Us on Instagram