President Arthur Peter Mutharika Thursday arrived in Johannesburg, South Africa to attend the 2018 BRICS Summit of Heads of State and government.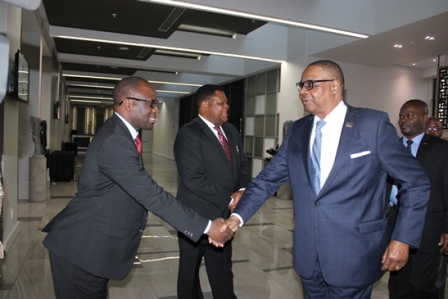 BRICS is the acronym for an association of five major emerging national economies comprising Brazil, Russia, India, China and South Africa.
The summit, which started on Wednesday and will end on Friday, is an international relations conference attended by the heads of state and government of the five member states.
At this 10th summit the leaders are expected to discuss international peace and security, global governance and trade issues.
This year's summit is being held under the theme BRICS in Africa: collaboration for inclusive growth and shared prosperity in the 4th Industrial Revolution.
The BRICS members are known for their significant influence on regional affairs.
Leaders of some non-member African countries, including Malawi, have been invited and are, particularly, expected to attend a BRICS Africa Outreach Session scheduled for Friday.
On arrival at Oliver Tambo International Airport, Mutharika was welcomed by Minister of Foreign Affairs and International Cooperation, Dr Emmanuel Fabiano, High Commissioner to the Republic of South Africa, Chrissie Kaponda and representatives of the South African Government.
From the Airport, Mutharika proceeded to Capital Menlyn Maine Hotel where he is being accommodated.
He was welcomed by Deputy Head of Mission, Malawi High Commission, Pretoria Gloria Bamusi, members of staff at the mission and Malawi delegates.
The summit is being held in South Africa for the second time after the first in 2013.
(Visited 46 times, 1 visits today)