Some 149 Nigerians, stranded in war-torn Libya, have been evacuated back to their country.
Ten infants are among the returnees after failed moves to Europe via the unstable North African country.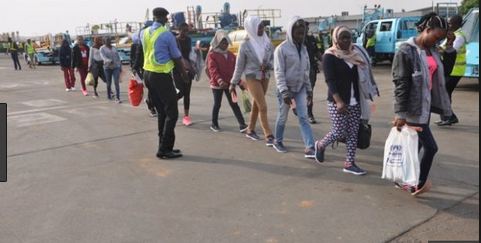 The International Organisation for Migration helped with the evacuation. Others, received by officials at Murtala Muhammed International Airport in Lagos, include 56 women and 81 men.
Nigerians are among the migrants from the continent using Libya as a gateway to Europe, via the Mediterranean Sea.
More than 1 850 people have died or gone missing in the Mediterranean since the beginning of the year. Some 26 800 children are stranded in Europe following irregular migrations.
Thousands have perished on the route while some migrants are trapped in the conflicts afflicting the country that has been volatile since Muammar Gaddafi was overthrown in 2011.
The returnee Nigerians had been stranded in the capital Tripoli, which has suffered renewed conflict as rival militant groups battle for control of the city.
Source:DaillySun
(Visited 25 times, 1 visits today)
Subscribe to our Youtube Channel :
Follow Us on Instagram