The Ministry of Gender, Children Disability and Social Welfare in partnership with Action Aid and other organisations have launched the #Ndiulula #Iwon'tbesilent Campaign and the 2018 16 Days of Activism Against Gender Based Violence.
The launch which took place on Friday, 23rd November, 2018 in Blantyre also incorporated the NGO-Gender Coordinating Network, Malawi Congress of Trade Union and Malawi Police Service in launching the campaigns.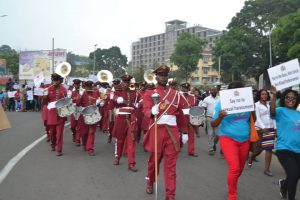 Ndiulula campaign seeks to break the silence on violence against women and girls in the world of work.
The young women-led initiative aims at building individual and collective voice of women, girls and their different allies to break the longstanding culture of fear, silence and normalisation of violence, especially sexual harassment in the world of work in order to bring it to spotlight.
According to Action Aid International Malawi page, Action Aid Malawi Executive Director, Grace Malera, said the campaign (#Ndiulula #Iwon'tbesilent) is underpinned by global objectives on decent work and national commitments on gender equality and rights of women and its specific objectives.
"The campaign is premised on the background of increasing levels of violence and harassment in the work which remains one of the tolerated violations of workers' human rights," Malera said.
Meanwhile, the 2018 16 Days of Activism Against Gender Based Violence, under the global theme 'End Gender-Based Violence in the World of Work and tertiary institutions', was graced by the just appointed Minister of Gender, Children, Disability and Social Welfare, Honourable Cecilia Chazama, MP.
In her speech, Chazama called upon all stakeholders to work together towards ending violence in the country, and also urged service providers to ensure that the right to privacy and dignity of survivors of sexual violence is upheld.
One of the country's survivors of sexual violence, Moureen Phiri, who is also carrying the face of the Ndiulula Campaign, said time has come for young women and girls to stop suffering in silence and name and shame perpetrators of sexual violence.
Subscribe to our Youtube Channel: