Blantyre City Council (BCC) has blocked the Human Rights Defenders Coalition (HRDC) from holding peaceful protest in the commercial capital on Thursday, saying all the routes are fully booked.
HRDC is expected to hold peaceful protest national wide to force the immediate resignation of Malawi Electoral Commission (MEC) Chairperson for administering the most fraudulent polls in the history of the country.
In a letter addressed to HRDC Chairperson Timothy Mtambo, BCC Chief Executive Officer Alfred Chaza has attributed the decision to bar CSOs from holding the protest on grounds that all routes in the city are booked up to June, 24 2019.
"We would like to inform you that the permission is hereby not granted for you to hold peaceful demonstrations in the city of Blantyre on June 20, 2019 as per Section 96(3) of the Police act. The reason for this is that the streets and Townships of Blantyre have been duly booked for public events by other stakeholders from 18 to 24 June 2019," reads in part the letter.
But HRDC Vice Chairperson Gift Trapence has trashed the reason given BCC describing it as baseless.
Trapence has said Chaza should rather resign and join the ruling Democratic Progressive Party (DPP) as opposed to using the council for political reasons.
Meanwhile Trapence has said the CSOs will hold the protest in Blantyre despite the order.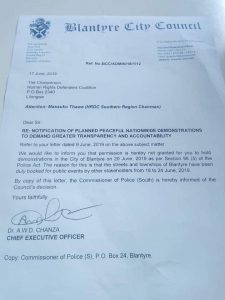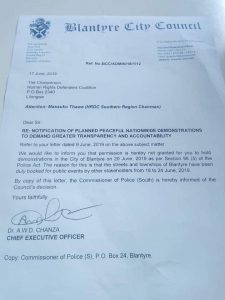 (Visited 15 times, 1 visits today)
Subscribe to our Youtube Channel :
Follow Us on Instagram